Incheon International Airport (인천국제공항)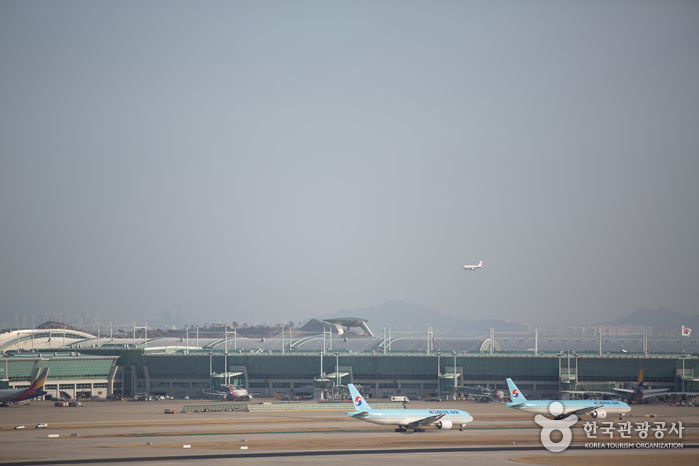 Zip Code : 22382
Phone number : +82-1577-2600
Homepage :www.airport.kr
(Korean, English, Japanese, Chinese)
Address : 272, Gonghang-ro, Jung-gu, Incheon
Driving directions : Please refer to official website for transportation options.
Summary
Incheon International Airport is one of the main transport hubs of Northeast Asia. Opened in March 2001, it was built on reclaimed land between Yeongjongdo and Yongyudo Islands. It houses the Korean Culture Museum, Traditional Culture Experience Zone, Traditional Craft Gallery, and Arrival Hall Culture Street, providing domestic and international tourists with opportunities to appreciate the richness of Korean arts and culture.

Airstar Terrace is an elegant lounge, overlooking aircrafts from around the world. The Incheon International Airport has continued to win awards ever since its opening and has been praised for its excellence, down to the last detail, some even commenting on the beauty of the lights at night reflecting on the aircrafts moored in the area.

The airport is consistantly ranked in the top ten airports worldwide and was granted the title 'Best Airport in the World' by Global Traveler for four consecutive years. It is the second busiest airport in the world in terms of cargo and freight and one of the busiest airports in terms of international passengers.
Tourist site
Contact and Information :
Day off :
Experience guide :
Parking facilities :
Information Not Available!