Baegmagang River (백마강)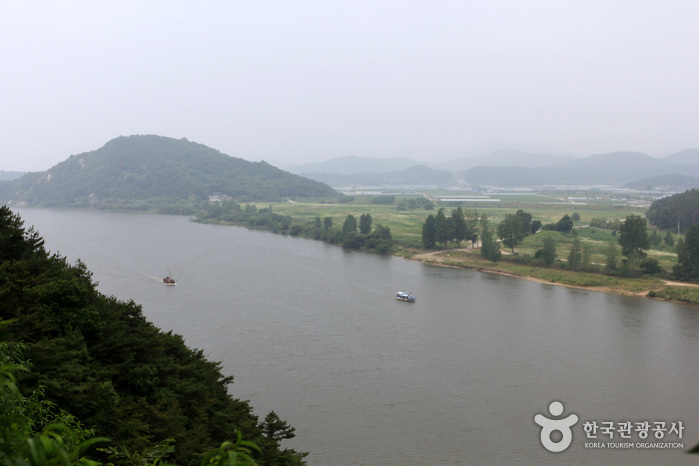 Zip Code : 33114
Phone number :
Homepage :www.buyeo.go.kr
(Korean, English, Japanese, Chinese)
Address : Buyeo-eup, Buyeo-gun, Chungcheongnam-do
Driving directions : - Take the bus to Buyeo at Dong Seoul Terminal
(Departure 8 times a day (every hour, 07:10-17:30), 2 hour and 30 minute ride)
- 3 minutes by taxi or 10 minutes on foot from Buyeo Express Bus Terminal
- Within 2km between major historic sites in Buyeo-eup (10-20 minutes on foot or 5 minutes by car)
Summary
Baegmagang River (백마강), which literally means 'the largest river in the Baekje Kingdom', refers to the 16km-long Geumgang River.

There are many historic sites all along Baegmagang River, which flows around Mt. Busosan, including Cheonjeongdae Altar (천정대), where important national affairs of the Baekje Dynasty were determined, Nakhwaam Rock (낙화암), Joryongdae Rock, Gudeure, BusanㆍDaejaegak Pavilion, Jaondae Rock and Subukjeong Pavilion.

* Joryongdae Rock (조룡대)
A small island-like rock on the Baegmagang riverside
* Daejaegak Pavilion (대재각)
Daejaegak Pavilion is located at the Baegmagang River cliff across from the Gudeure Ferry. In this pavilion can be found a rock bed engraved with 'Jitongjaesim Ilmodowon' on its surface.
Tourist site
Contact and Information : • 1330 Travel Hotline: +82-2-1330
(Korean, English, Japanese, Chinese)
• For more info:
Gudeurae Ferry Dock: +82-41-835-4689
Goransa Ferry Dock: +82-41-835-4690
Subukjeong Ferry Dock: +82-41-835-3458
Hwangpo Dotbae: +82-41-835-4689
Day off :
Experience guide :
Parking facilities :
Facility Utilization Fees
* Baegmagang River Tour Boat (departure if more than 3 passengers aboard)
- Goransa Temple ↔ Gudeure Ferry
One way fare - Adult 4,000 won / Child 2,200 won
Round trip fare - Adult 6,000 won / Child 3,000 won
- Goransa Temple ↔ Subukjeong Pavilion
One way fare - Adult 7,000 won / Child 3,800 won
Round trip fare - Adult 12,000 won / Child 6,000 won

* Operations General ship (available for 7 passengers or more)
Hwangpo Dotbae (available for 20 passengers or more): Round trip 12,000 won
Restrooms
Available