Abai Village (아바이 마을)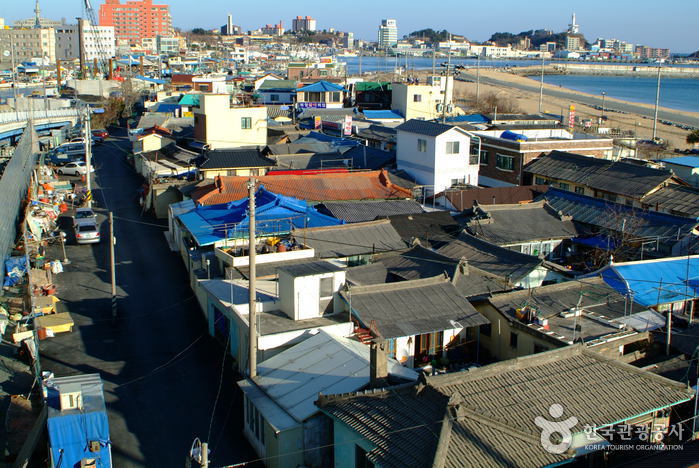 Zip Code : 24884
Phone number :
Homepage :www.abai.co.kr (Korean only)
Address : Cheongho-ro, Sokcho-si, Gangwon-do
Driving directions : [Bus]
From Seoul Express Bus Terminal or Dong Seoul Bus Terminal, take a bus to Sokcho (Travel time: approx. 3hr).

From Sokcho Express Terminal, take Bus No. 1, 7, or 9 (10 min ride).

From Sokcho Intercity Bus Terminal, take city bus 7-1 or 9-1 and get off at City Hall (10 min ride).
Walk 5 min and take a boat on the way to Cheongho-dong.
Summary
The village of Cheongho-dong is now the hometown to many people of North Korean ancestry and is commonly referred to as 'Abai village.' The word 'Abai' comes from the Hamgyeong-do dialect meaning 'an aged person.' Many elderly people fled to Cheongho-dong from North Korea during the Korean War; the large number of older residents resulted in the town's current nickname.
The streets of Cheongho-dong are lined with small Korean houses reminding many of Seoul in the 1970s. The simple nature of the town and quietness of the sea make for a unique atmosphere in Cheongho-dong. This area became extremely popular after the Korean drama "Autumn in My Heart" was filmed here. In the drama, the lead actress's mother had a supermarket in Cheongho-dong. Nearby the supermarket the lead actress often took a boat, which has now become a popular attraction for tourists. Holding up to 35 people, this 'Gaetbae' boat operates on manpower (people pulling on ropes moving the boat across a waterway) and can be taken from downtown Sokcho to Cheongho-dong. When looking for a bite to eat, Abai sundae and hamheung naengmyeon are two of the most popular dishes.
Tourist site
Contact and Information : • 1330 Travel Hotline: +82-2-1330
(Korean, English, Japanese, Chinese)
• For more info: +82-33-639-2690
Day off :
Experience guide :
Parking facilities : Available
Film Locations
"Autumn in My Heart"
Admission Fees
Free
Restrooms
Available