Anmyeondo Island Recreational Forest (안면도자연휴양림)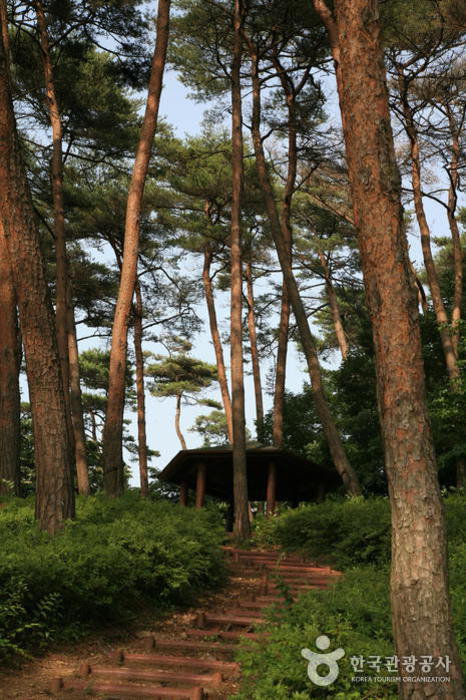 Zip Code : 32166
Phone number : +82-41-674-5017~8
Homepage :www.anmyonhuyang.go.kr (Korean only)
Address : 3195-6, Anmyeon-daero, Anmyeon-eup, Taean-gun, Chungcheongnam-do
Driving directions : [Bus]
- From Taean Intercity Bus Terminal, take an Intercity Bus bound for Anmyeondo Island
- Get off at Anmyeon-eup (first bus 7:00 / last bus 21:00 / 30 min interval).
- From there, take a bus bound for Gonam/Youngmoak and get off at Nature Recreation Forest
(first bus 7:20 / last bus 19:40 / 1 hour interval / 10 min ride).

- Every bus bound for Anmyeondo Island passes through Seosan and Taean.
- You can tranfer to Anmyeondo Island bound bus at Seosan/Taean Bus Terminal.
- Take a train and get off at Hongseong Station.
- From Hongseong Intercity Bus Terminal, take an intercity bus headed for Anmyeondo Island.

[Taxi]
Taxi takes 5 minutes from Anmyeon-eup.

Summary
Anmyeondo in Taean is home to a 100 year old pine tree forest that is special in Korea. The natural forest was managed by the royal family during the Goryeo Dynasty and since 1965 has been managed by the province of Chungcheongnam-do.

The Forest Exhibition Hall in Anmyeondo Recreational Forest displays the producing process of wood, the uses of wood, the forest's worth, and more in an easy to comprehend manner. The Forest Cabin and Forest Recreation Center have a gas stove, cooking utensils, and shower facilities.
Tourist site
Contact and Information : • 1330 Travel Hotline: +82-2-1330
(Korean, English, Japanese, Chinese)
• For more info: +82-41-674-5017~8 (Korean)
Day off : N/A (Open all year around)
Experience guide :
Parking facilities : 165 Spaces
small cars- 3,000 won / large cars- 5,000 won (no charge for log house occupants)