Anmingogae Hill (안민고개)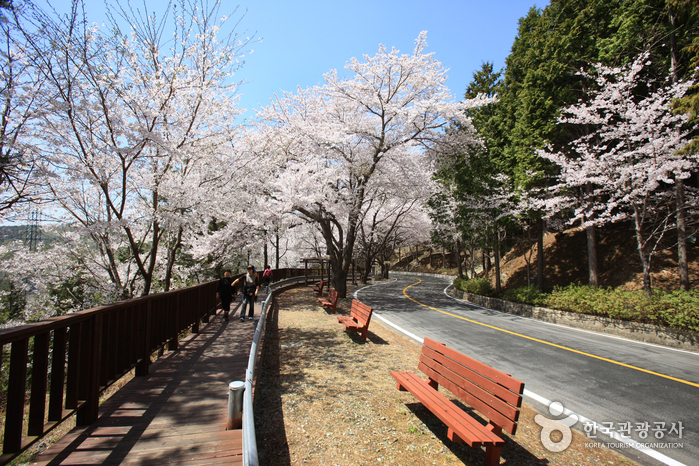 Zip Code : 51586
Phone number : +82-55-225-3691
Homepage :
Address : Jinhae-gu, Changwon-si, Gyeongsangnam-do
Driving directions : [Bus]
From Jinhae Bus Terminal, turn right and walk approx. 170m.
At the 4-way intersection, cross the street to Baekgu-ro Road.
Follow the road for approx. 440m.
At Jungwon Rotary, turn right.
Cross the street once and turn right at Beotkkot-ro Road.
Walk straight to Jangnangam Doseogwan (Jangnangam Library) Bus Stop.
Take Bus No. 309 and get off at Gyeonghwa Daedongdasup Bus Stop.

[Taxi]
From Jinhae Bus Terminal, take a taxi to Daedongdasup Apartment Ipgu (front entrace) for approx. 9 mn.
Summary
Anmingogae Hill is a nine kilometer-long hill that reaches from Taebaek-dong in Jinhae to Anmin-dong in Changwon. Six of the nine kilometers are lined with cherry blossoms, making up the famous Jinhae Cherry Blossom Tunnel. The hill is also known for its view of Jinhaeman Bay, Ungsan Mountain, Sirubong Peak and Cheonjabong Peak. The hill is dotted with benches placed about 100 meters apart, offering visitors a comfortable way to catch their breath while enjoying the view and cherry blossom trees.

Also of note is the Anmin Saengtaegyo Bridge (Anmin Ecology Bridge), which was built as a passageway for wild animals to travel between Jangboksan and Ungsan mountains after the mountains were divided by the Anmin Tourism Road running from Jinhae and Changwon. The hiking trail to Jangboksan Mountain past the Anmin Saengtaegyo Bridge is closed in the spring as part of fire prevention measures.
Tourist site
Contact and Information : • 1330 Korea Travel Hotline: +82-2-1330
(Korean, English, Japanese, Chinese)
• For more info: +82-55-225-3691
Day off : N/A (Open all year round)
Experience guide :
Parking facilities :
Information Not Available!