Achasan Mountain (아차산)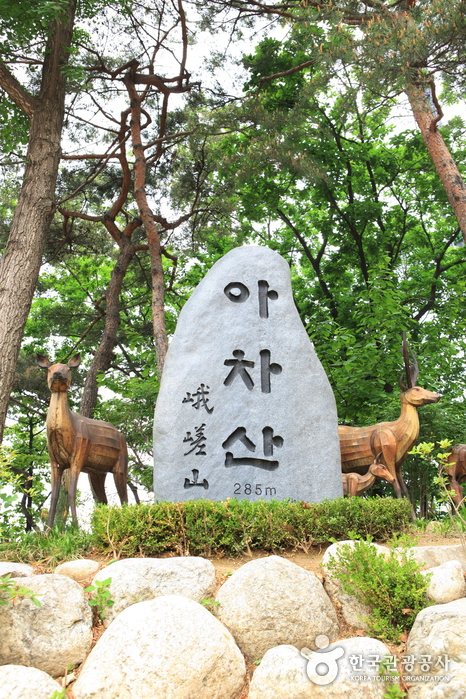 Zip Code : 04965
Phone number : +82-2-450-7782
Homepage : www.gwangjin.go.kr/achasan
(Korean only)
Address : Gwangjang-dong, Gwangjin-gu, Seoul-si & Guri-si, Gyeonggi-do
Driving directions : [Subway]
Gwangnaru Station (Seoul Subway Line 5), Exit 1 (15-min walk).
Achasan Station (Seoul Subway Line 5), Exit 2 (25-min walk).
Summary
Achasan Mountain (alt. 287m) stretches from Seoul to Guri City and is an extremely popular hiking spot for residents of Seoul and Guri City and the surrounding area. Towards the top of the mountain (about 40 minutes into the climb) a panoramic view of the Han River and Seoul unfolds at the mountain base.

During the Joseon Dynasty, what are now Bonghwa and Yongmabong Peak and the Manguri Cemetery were considered part of Achasan Mountain. Twenty bastions were discovered along Achasan Mountain that were originally estimated to date back to the Three Kingdoms Era. Further research indicated that some of the remains were actually part of a military fortress built during the Goguryeo Era. In light of these findings, it was officially designated a Historic Site No. 455 (2004).
Tourist site
Contact and Information : • 1330 Travel Hotline: +82-2-1330
(Korean, English, Japanese, Chinese)
• For more info: +82-2-450-1655,
+82-2-450-1395, +82-2-450-1192
Day off : N/A
Experience guide :
Parking facilities : 40 parking spaces
Hiking Course
▲ Course1 (Duration: 1hr, 30min): Achasan Ecological Park → Pine Tree Forest → Achasanseong Fortress → Nakta Gogae Pass → Chinsu Valley → Achasan Management Office → Meeting place

▲ Course 2 (Duration: 2 hours): Meeting place → Nakta Gogae Pass → Goguryeojeong → Haemaji Square → Summit → Daeseongam Hermitage → Nakta Gogae Pass → Chinsu Valley → Meeting place

▲ Course 3 (Duration: 2hrs, 30min): Meeting place → Achasan Management Office → Chinsu Valley → Goguryeojeong → Summit → Yongmasan Mt. → Ppeongtwigigol Valley

▲ Course 4 (Duration: 2hrs, 30min): Meeting place → Pine Tree Forest → Nakta Gogae Pass → Goguryeojeong → Daeseongam Hermitage → Summit → Ancient Fortress Site No. 4 → Gingorang
Admission Fees
Free
Available Facilities
Achasanseong Fortress, Haemaji Square, meeting place, etc.
Restrooms
Available
Parking Fees
300 won for 10min