Chuam Chotdaebawi Rock (추암 촛대바위)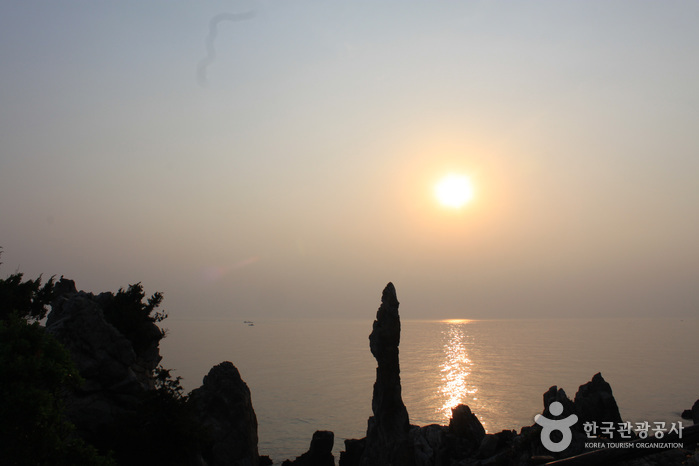 Zip Code : 25790
Phone number : +82-33-530-2801, +82-33-530-2232
Homepage : english.dhtour.go.kr
(Korean, English, Chinese, Japanese)
Address : Chotdaebawi-gil, Donghae-si, Gangwon-do
Driving directions : From Dong Seoul Bus Terminal, take an intercity bus to Donghae.
From Donghae Intercity Bus Terminal, take bus 61 and get off at Chuam.
Donghae to Chuam bus schedule: 7 times per day/ Travel time: 40-45min.

OR
From Donghae Intercity Bus Terminal, take a bus bound for Samcheok. (10min intervals)
Get off at the entrance of Chuam and walk 1km.

Summary
Chuam Chotdaebawi Rock (추암 촛대바위) in Donghae-si, Gangwon-do Province is one of Korea's most famous tourist attractions. The beautifully formed rock towers high into the sky and resembles a candlestick, from which it gets its name. "Chotdae" is Korean for "candle," while "bawi" means "rock"; quite literally "candle rock."

The beautiful sight of Chotdaebawi Rock surrounded by 10 or so smaller rocks is sure to take your breath away. The surrounding rocks are named after their shapes; "Geobukbawi"(turtle), "Bububawi"(couple), and "Hyeongjebawi"(brothers).

Chotdaebawi Rock is a popular place for visitors to come and enjoy the magnificent beauty of the sun slowly peeking its way over the edge of the rock face. The beauty of the rock at sunrise is so picturesque that it is even used as a backdrop for the Aegukga (the Korean national anthem) when it is aired on KBS (Korean Broadcasting System).

Other nearby attractions include Chuam Beach and Haeamjeong (a type of pavilion dating back to the Joseon Dynasty).

* The Legend of Chotdaebawi Rock
Once upon a time, there was a man who lived in Chuam who had a concubine. His wife was jealous of the second wife and the conflict between the two women continually escalated. One day, god became enraged over their continual quarreling and threw lighting down from heaven, striking both women dead. The newly-made widower missed his wives so much that he remained frozen in his loneliness and eventually turned into a rock, which is now Chotdaebawi Rock that we see today.
Tourist site
Contact and Information : • 1330 Travel Hotline: +82-2-1330
(Korean, English, Japanese, Chinese)
• For more info: +82-33-530-2801,
+82-33-530-2232
Day off :
Experience guide :
Parking facilities : Available
Admission Fees
Free
Restrooms
Available