Biseondae Rocks (비선대)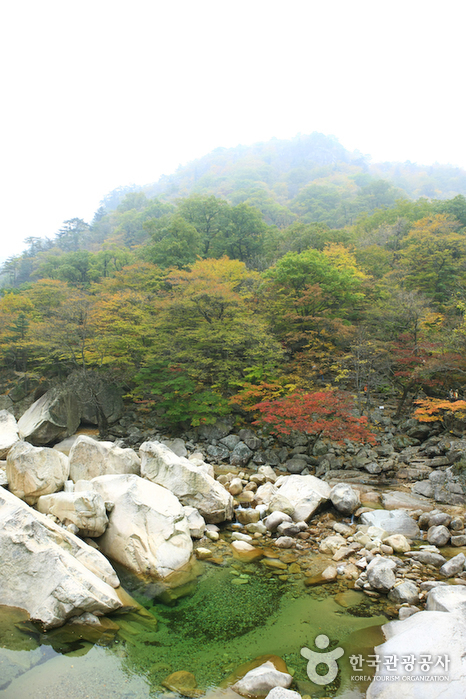 Zip Code : 24903
Phone number : +82-33-636-7700
Homepage :seorak.knps.or.kr
(Korean, English, Japanese, Chinese)
Address : 1091, Seoraksan-ro, Sokcho-si, Gangwon-do
Driving directions : By local bus, it takes approximately 30 minutes from downtown Sokcho to Seorakdong.
Summary
Biseondae is about a 300-meter walk along the mountain stream from Waseondae Rock. The view is quite beautiful, and after rainfall water cascades down large boulders. The name 'Biseondae' derives from the legend of a fairy who flew up into the heavens while admiring the area's beautiful scenery. The grand scenery of rocks and cliffs seem like they are touching the heavens, and Biseondae has inspired many poets and scholars through the ages. Some of their writings have been engraved on the rocks and are preserved to this day.

The trail from Sogongwon to Biseondae is an easy 3 kilometers and takes approximately 50 minutes.
Tourist site
Contact and Information : • 1330 Travel Hotline: +82-2-1330
(Korean, English, Japanese, Chinese)
• For more info: +82-33-636-7700
Day off :
Experience guide :
Parking facilities : Available
(Seorak-dong C1, Seorak-dong C2, Seorak-dong B1, Seorak-dong B2, Seorak-dong A)
Hiking Course
Seorak Sogongwon (소공원)~Biseondae (비선대): 3km
And many more, which are subject to change.

Please find details at the official website or call to check availability at the park management office.
Areas Open to the Public
Seorak-dong~Ulsanbawi Rock
Osaek Mineral Spring~Yongso Waterfalls
Soe Park~Biryong Waterfalls
Yeosim Waterfalls~Yongso Waterfalls
Soe Park~Biseondae~Geumgang Cave
Gamasolgol Valley~Korea Botanic Garden
Mountain Not Access Period
Spring season firewatch period: Feb 1, 2014-May 15, 2014
Fall season firewatch period: Nov 15, 2014-Dec 15, 2014
※ The period is subject to change due to weather and other unforseen conditions. Please check the details before visit.
Natural Preservation Areas (closed to public)
Special preservatory area designated by the Korea National Park Authority.
* Daecheongbong Peak (610,000㎡, closed until 2026)
* Heuksseon-dong Valley (Hwangjang Waterfalls~Daeseungnyeong) (5,000,000㎡, closed until ~2026)
* Jeombongsan Mountain (10,100,000㎡, closed until 2026)
* Hwachaeneungseon Valley (5,300,000㎡, closed until 2026)
* Madeungnyeong Valle~Misiryeong Valley (10,500,000㎡, closed until 2026)
Admission Fees
Free