Saja Bawi Rock (사자바위)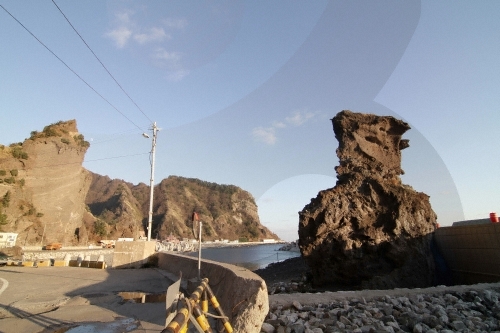 Zip Code : 40234
Phone number : +82-54-790-6392
Homepage :www.ulleung.go.kr/ (Korean, English)
Address : Namseo-ri, Seo-myeon, Ulleung-gun, Gyeongsangbuk-do
Driving directions : 1) Pohang Pohang-Ulleungdo / Pohang Ferry Terminal (054-242-5111, available in Korean)
2) Mukho-Ulleungdo / Mukho Ferry Terminal (033-531-5891, available in Korean)
※ Ferry schedule is subject to frequent changes due to weather conditions, so visitors are advised to check the schedule in advance by phone. Advanced reservations are necessary; frequently during the summer months.
3) Ferries to Dokdo embark once or twice a day with the schedule subject to change according to season and weather conditions, so be sure to check the ferry schedule before departure.
For more information, click here! (English, Korean, Japanese, Chinese)
Summary
Located in Namseori Beach in the west of Ulleungdo, Saja Bawi Rock is famous for its spectacular sunset views. There is also a legend of General Yi Sa-bu of the Silla Kingdom (57 BC ~AD 935). Upon the order of the king of Silla, Yi set out on a military campaign to conquer Usanguk, the former name of Ulleungdo.
The rough land and strong waves of Usanguk made it difficult for Yi to anchor his vessel. Showing the King of Usanguk the wooden lion sitting at the head of his vessel, Yi threatened to kill everyone on the island. Fearful of the lion, the king took off his war helmet and surrendered. Legend says that the wooden lion became Saja (Lion) Bawi Rock.
Tourist site
Contact and Information : • 1330 Travel Hotline: +82-2-1330
(Korean, English, Japanese, Chinese)
• For more info: +82-54-790-6392
Day off :
Experience guide :
Parking facilities :
Information Not Available!