Oedolgae Rock (외돌개(제주))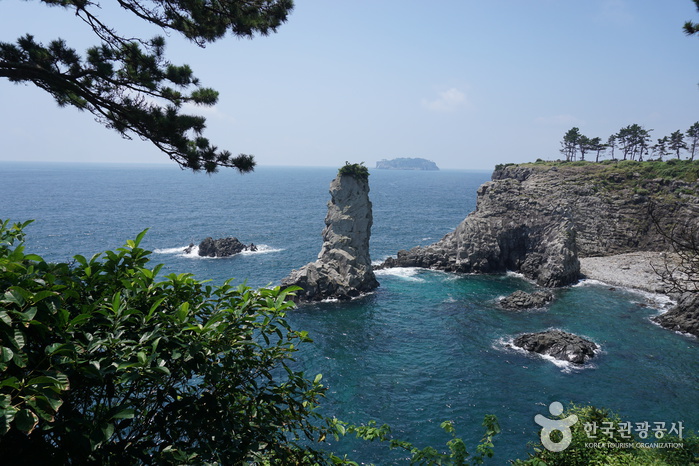 Zip Code : 63594
Phone number : +82-64-760-3031
Homepage :www.jejutour.go.kr (Korean, English, Japanese, Chinese)
Address : 791, Seohong-dong, Seogwipo-si, Jeju-do
Driving directions : [Bus]
From Jeju Intercity Bus Terminal, take a bus bound for Seogwipo and get off at Dongmun Rotary Bus Stop.
- Go west along Jungjeong-ro Street for about 130m to the bus stop.
- Take Bus No. 8 bound for Oedolgae Rock.

From Jeju International Airport, take Airport Limousine Bus No. 600 and get off at New Gyeongnam Hotel Bus Stop.
- Take a taxi to Oedolgae Rock (about 5-min).

From Seogwipo Intercity Bus Terminal, take Bus No. 100 and get off at Yeoseonghoegwan (Women's center) Bus Stop (travel time: about 50 min).
- Cross to the bus stop on the opposite side of the street.
- Take Bus No. 8 and get off at Oedolgae Bus Stop (3 stops away).
Summary
Oedolgae Rock sits not far from the shores of Sammaebong, Seogwipo. It is an amazing rock 10 meters in circumference and 20 meters in x_height and is also known as Janggunseok Rock. It is surrounded by beautiful islands such as Bum Island, Sae Island and Seonnyu (fairy) Rock.

Oedolgae was also a filming location in the 2003 TV drama series, "Daejangguem" where Hansangoong (Yang Mi-Kyung) faced her death under a false accusation while being carried on Daejanggeum's (Lee Young-Ae) back. The fantastic rocks of Oedolgae and fields of reeds in the extensive ranch provide the perfect background for trekking. The sunset of Bum Island, which can be seen from Oedolgae Rock, has long been an essential stop for tourists going to Jeju-do Island.
Tourist site
Contact and Information : • 1330 Travel Hotline: +82-2-1330
(Korean, English, Japanese, Chinese)
• For more info: +82-64-760-3031
Day off : N/A (Open all year round)
Experience guide :
Parking facilities : Available: 100 spaces
Film Locations
Korean TV drama "Daejanggeum (2003)"
Admission Fees
Free
Available Facilities
Observation deck, rest area, souvenir shop, walking trails
Parking Fees
Free