Rajetongmun Gate (라제통문)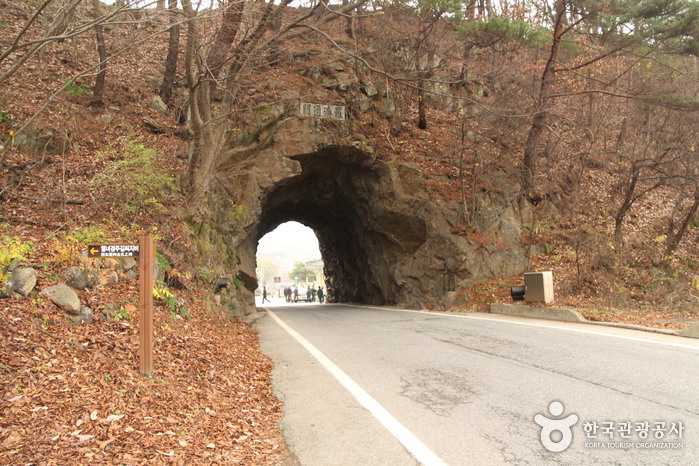 Zip Code : 55554
Phone number :
Homepage :
Address : Rajetongmun-ro, Muju-gun, Jeollabuk-do
Driving directions : [Bus]
From Seoul Nambu Bus Terminal, take a bus to Gucheon-dong.
- Walk 135m straight to Seolcheon Gucheon-dong Stop.
- Take a local bus to Seolcheon and get off at Sindu Bus Stop.

Summary
The historical border of the Silla and Baekje Kingdoms, Rajetongmun Gate of Seolcheon-myeon, Muju was formed from a rock cave in Seokgyeonsan Mountain. The tunnel is approximately 3m in x_height and 10m in length, and divides the villages of Sindu Maeul into Dugil-ri, Seolcheon-myeon and Inam Maeul in Socheon-ri. During the Three Kingdoms Period, the rocky ridges of Seokgyeonsan Mountain drew the boundary of Silla's Mupung in the east with Baekje's Seolcheo to the west.
Tracing the history from the Three Kingdoms Period to the Goryeo Dynasty, the cultures and traditions of the two regions were markedly different. If curious about the difference, one could simply stop by Seolcheon on market day, where the Muju and Mupung local dialects and customs can easily be distinguished.

People used to cross Seokgyeonsan Mountain by a footpath along the rocky ridge to travel between Seolcheon and Mupung. During the Japanese occupation, a new road was created by turning a cave into a tunnel through the mountain so cows and horse carts could freely pass from Muju to Gimcheon.

General Kim Yoo Shin from the Silla Kingdom, the hero of unification of the Three Kingdoms, often passed by the gate, later giving rise to the gate's nickname, Tongilmun (literally "Unification Gate"). The gate is number one on the list of 33 scenic sites in Gucheon-dong.
Tourist site
Contact and Information : • 1330 Travel Hotline: +82-2-1330
(Korean, English, Japanese, Chinese)
• For more info: +82-63-322-2905
Day off : N/A (Open all year round)
Experience guide :
Parking facilities :
Information Not Available!