Jusangjeolli Cliff of Mudeungsan Mountain (무등산 주상절리대)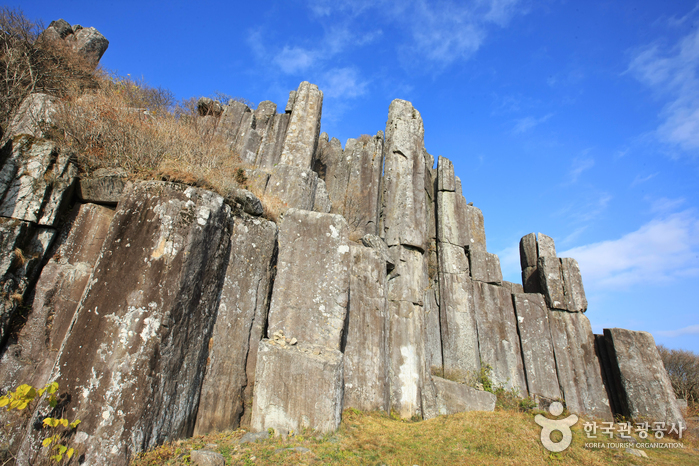 Zip Code : 61512
Phone number : +82-62-227-1187, +82-61-371-1187
Homepage :mudeungsan.gjcity.net
(Korean only)
mudeungsan.gwangju.go.kr
(Korean only)
Address : San 354-1, Yongyeon-dong, Dong-gu, Gwangju
Driving directions : From Gwangju Bus Terminal (U-Square).
Take Bus 09 and get off at the entrance of Jeungsimsa Temple(증심사).
Walk towards Mudeungsan Provincial Park(무등산도립공원).
Summary
The Jueangjeolli cliffs are rock pillars of various hexagonal shapes that seem as if they were hand carved. The Jusangjeolli cliffs of Mudeungsan Mountain consist of Seoseokdae, Ipseokdae, and Gyubong Rocks formed about 70 million years ago. Ipseokdae and Gyubong Rocks are both of a distinct pillar shape as they have been heavily weathered, and Seoseokdae, which was less weathered, looks like a folding screen. The Neodeolgeong (cluster of rocks), which sit on the mountain slope, were made when stone pillars collapsed. The standing rocks and Neodolgeong have been designated as Natural Monuments due to their rarity and uniqueness.
Tourist site
Contact and Information : • 1330 Travel Hotline: +82-2-1330
(Korean, English, Japanese, Chinese)
• For more info: +82-62-227-1187,
+82-61-371-1187
Day off :
Experience guide :
Parking facilities : Available
Admission Fees
Free
Available Facilities
Cheongpum Rest Area
Restrooms
Available
Parking Fees
[Jeungsimsa Temple Area]

Classification

Parking Fees
(won/30min)

Day Pass
(won)

Two-wheeled

100

200

Cars

Business

200

2,400

Non-business

400

6,400

Buses

Micro

250

3,000

Regular

150

2,000

Non-regular

300

4,000

Trucks

4t and up

250

3,000

up to 4t

300

4,000