Aiins World (아인스월드)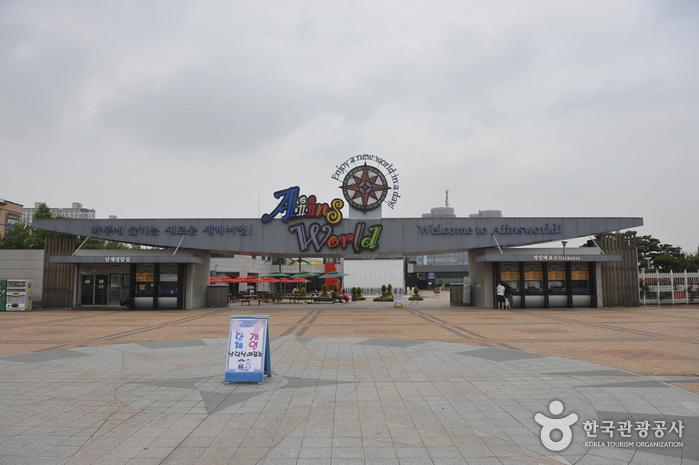 Zip Code : 14505
Phone number : +82-32-320-6000
Homepage : www.aiinsworld.com (Korean only)
Address : 1, Doyak-ro, Wonmi-gu, Bucheon-si, Gyeonggi-do
Driving directions : [Subway]
Samsan Stadium Station (Seoul Subway Line 7), and Exit 4 or 5.
Walk pass the Korea Manhwa Museum and continue walking straight for about 300m to arrive at Aiins World.
Summary
Aiins World is a theme park where miniature recreations of world famous buildings are on display. The miniatures at Aiins World were crafted with such painstaking attention to detail that visitors feel like they are looking at the real thing. People also feel as if they have taken a trip around the world all in one day.

The miniature version of the Great Wall of China and Mt. Kilimanjaro, blowing out smoke and ash, attracts many visitors with realistic models as well as sound effects. Other miniatures include the Empire State Building, Rockefeller Center with its famous ice rink, and the street of Broadway in New York City. Aiins World lights up at night, creating a romantic and festive mood. Taking pictures next to some of the most famous structures in the world can be a rewarding experience and fun for everyone.
Tourist site
Contact and Information : • 1330 Travel Hotline: +82-2-1330
(Korean, English, Japanese, Chinese)
• For more info: +82-32-320-6000
Day off : N/A (Open all year round)
Experience guide :
Parking facilities : Available

Small-size Vehicles: 1,000 won
Mid-sized Vehicles: 3,000 won
Large-sized Vehicles: 5,000 won
Admission Fees
[Aiin's World]
Adults (Ages 13 & above) 10,000 won
Children (Ages 3-12) 8,000 won

* Free admission for children ages below 3. Must be accompanied by 1 guardian per child. (Proof of identification required)

Please refer to official homepage for more details.
* Local residents (Bucheon-si, Bupyeong-gu): 20% discount
Available Facilities
Medical care center, experience center, outdoor stage, outdoor picnic area, convenient store, etc.
Korean Info. Service
Available upon prior reservation
Reservation Info. for Natives
Reservation: +82-32-320-6000
Korean Info. Service
Available upon prior-reservation