Asanoncheon Hot Spring (아산온천)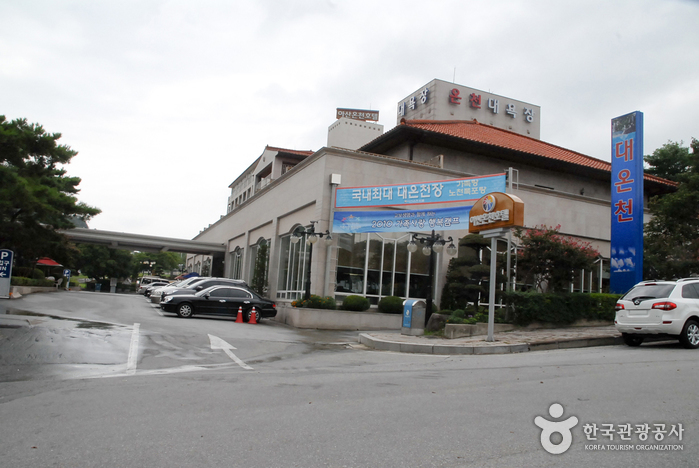 Zip Code : 31442
Phone number : +82-41-541-5526
Homepage :www.asanonchon.co.kr (Korean only)
Address : 217-7, Asanoncheon-ro, Eumbong-myeon, Asan-si, Chungcheongnam-do
Driving directions : [Bus, Subway]
- Onyangoncheon Station (Seoul Subway Line 1 or Janghang Line)
- Take city bus 100-1

[Bus]
- From Dong Seoul Intercity Bus terminal, take bus heading to Onyang Express Terminal
- Take city bus 100-1.
Summary
Asanoncheon Hot Spring was discovered in 1987 and designated as a tourist zone in 1999. The mineral-rich spring water offers a slew of natural health benefits. The alkaline water found in the natural hot spring contains a variety of minerals (about 20 types), including calcium and sodium bicarbonate.

When you bathe in the hot spring, your skin absorbs these minerals, which speed up cellular restoration and blood circulation. An oxygenated circulatory system is beneficial in keeping not only your stomach, but your body's other vital organs and tissues healthy and strong.

The hot spring offers natural treatment options for various common ailments such as arthritis, neuralgia, high blood pressure, stomach disorder, and stroke. Nestled in the mountains, the spa offers the relaxation of walking in the forest and breathing in the fresh valley air. Also, stopping by the historical statue at Asanho Lake along the west coast highway to Asanoncheon Hot Spring will add an extra bit of fun to your weekend excursion.
Tourist site
Contact and Information : • 1330 Travel Hotline: +82-2-1330
(Korean, English, Japanese, Chinese)
• For more info: +82-41-541-5526~30
Day off : N/A (Open year round)
Experience guide :
Parking facilities : Available
Admission Fees
Adults (ages 8 & over ) 7,000 won / Children (ages 25 months - 7 years) 5,000 won

* Infants under 24 months may enter free of charge when an official form of identification is presented (e.g. a medical insurance card)
* Groups of 15 or more may receive a discount rate
* Special discounts for in-house guests or any affiliated business partners of Asanoncheon Hot Spring & Hotel.
Available Facilities
[Grand Public Bath]
The spa accommodates about 1,500 people, allowing visitors to bathe in a variety of hot spring pools. It will make you feel like you've stepped into a palace. A bath scented with Japanese cypress is made of the best quality cypress timber aged more than 300 years. The Japanese cypress bath contains a taoreu scent, which is known for its therapeutic skin cleansing properties, which can be utilized by immersing one's body in the hot spring water. Also, this uniquely scented bath will make you feel as if you've strolled deep into a woodland forest.
[Open air baths]
Watch the blue sky and puffy white clouds overhead while relaxing in the nourishing spring water. The fresh air will rejuvenate and moisturize your skin. Even light rain or snow doesn't stop visitors from using the open air baths.
* Sauna
* Seminar rooms
Seminars, workshops, team building, celebrations, or other private events
* Traditional Korean restaurants
Top quality service with top quality food at Asanoncheon Hot Spring & Hotel restaurant
* Guest rooms (both Korean and Western style)
* Lounge and coffee shop
Restrooms
Available
Parking Fees
Free