Bomunsan Park (보문산공원)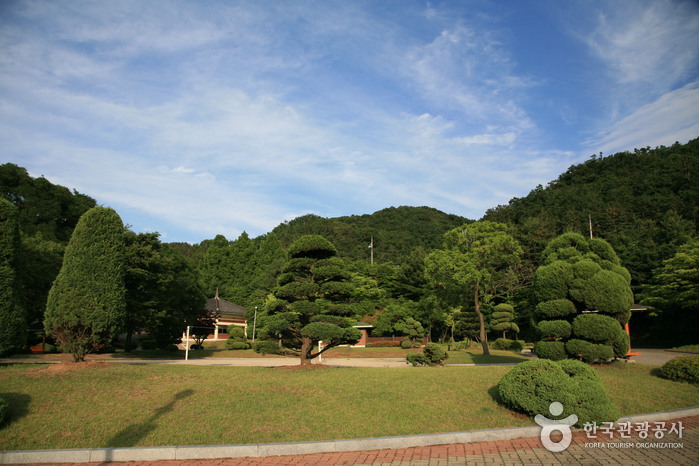 Zip Code : 35052
Phone number : +82-42-581-3516, +82-42-581-4801
Homepage :www.djcc.or.kr
(Korean only)
Address : 446, Bomunsangongwon-ro, Jung-gu, Daejeon
Driving directions : From Dong Seoul Terminal (Gangbyeon Station, Seoul Subway Line 2), take an express bus bound for Daejeon(대전).
* Bus schedule: 06:10-21:30, 20-25min intervals
Across from Daejeon Terminal, take Bus 802 bound for Bomunsan Park(보문산공원).
* Bus schedule: 05:45-22:30, 23min intervals
Walk along the Bomunsangongwon-ro for about 430m.
Summary
Bomunsan Park is a major park in the city of Daejeon. It boasts lush greenery that changes colors every season. It also offers a wide range of recreational facilities like mineral springs, hiking trails, indoor roller-skating rink, soccer field, exercise equipment, and youth square, as well as cultural attractions like Bomunsanseong Fortress, Bomunsaji Temple Site, outdoor music hall, observatory, and cable car.
Tourist site
Contact and Information : • 1330 Travel Hotline: +82-2-1330
(Korean, English, Japanese, Chinese)
• For more info: +82-42-606-7754
Day off : N/A (Open all year round)
Experience guide :
Parking facilities : Available
Hiking Course
* Musudong-gil (무수동길) (1hr 30min) - Musu-dong Yeogyeongam Hermitage (무수동여경암) → Mountain Ridge (산등성이) → Sirubong Peak (시루봉)

* Musu-dong (무수동) → Baenamugol Village (배나무골) → Guwandong Hill (구완동고개) → Mountain Ridge (산등성이) → Sirubong Peak (시루봉)

* Witbeomgol-gil (윗범골길) (2hrs) - Witbeomgol Valley or Mountain Ridge (윗범골골짜기 또는 산등성이) → Sirubong Peak (시루봉)

* Isadong-gil (이사동길) (2hrs) - Isa-dong (이사동) → Guwandong Hill (구완동고개) → Mountain Ridge (산등성이) → Sirubong Peak (시루봉)
Admission Fees
Free
Available Facilities
Bomunsanseong Fortress, outdoor music hall, observatory, approx. 20 mineral water springs
Restrooms
Available