Alpensia Resort (알펜시아 리조트)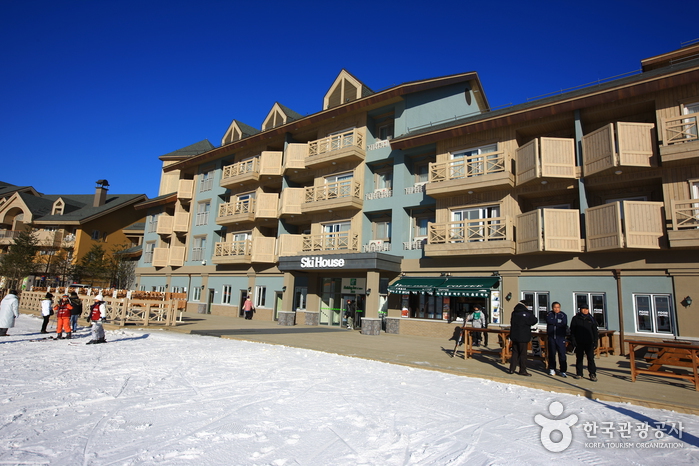 Zip Code : 25351
Phone number :
Homepage :www.alpensiaresort.co.kr (Korean, English, Japanese, Chinese)
Address : 325, Solbong-ro, Pyeongchang-gun, Gangwon-do
Driving directions : [Express/Intercity Bus]
From Seoul Express Terminal, take an intercity bus to Hoenggye Intercity Bus Terminal.

[Taxi]
Approx. 15min from Hoenggye Bus Terminal.
Summary
Alpensia Resort, located approx. 184km from Seoul in Daegwallyeong, Pyeongchang-gun, Gangwon-do, is a tourism & leisure complex open year round, allowing visitors to enjoy the area's pristine natural beauty throughout each of the four seasons. The name 'Alpensia' is a combination of the words 'Alpen,' (German term for 'the Alps'), 'Asia,' and 'Fantasia'—together they reflect the resort's scenic view of the 'fantastic Alps of Asia.'

The complex boasts a variety of super deluxe luxury accommodations and top-notch leisure facilities such as a 45-hole golf course, convention center, water park and ski slopes. The resort successfully hosted the IBU Biathlon World Cup Pyeongchang in 2008 and boasts excellent ski jump and biathlon facilities, a monorail, cross-country ski slopes, and a large stadium. After a hard day out on the slopes or golf course, visitors can head to the sky lounge, ecology learning center, or Retail Village shopping mall. The resort is also adjacent to many other tourist attractions such as Odaesan Mountain, Samyang Sheep Ranch, Korea Botanic Garden, Lee Hyo-Seok Memorial Hall, and Herbnara Farm.
Tourist site
Contact and Information : • 1330 Travel Hotline: +82-2-1330
(Korean, English, Japanese, Chinese)
• For more info: +82-33-339-0000
Day off : N/A (Open all year round)
Experience guide :
Parking facilities : Available
Available Facilities
[Accommodations]
Intercontinental Alpensia Pyeongchang Resort, Holiday Inn Alpensia Pyeongchang Resort, Holiday Inn Alpensia Pyeongchang Suites

[Sports & Leisure]
Golf club, Ocean 700 water park, ski & snowboard slopes, Alpine Coaster, ski jump tower, monorail, main stadium, cross-country, biathlon

[Culture & Arts]
Convention center, ecological center, music tent, concert hall, retail village, Daegwallyeong Ski History Museum
Restrooms
Available
Korean Info. Service
Available