Baekje Cultural Land (백제문화단지)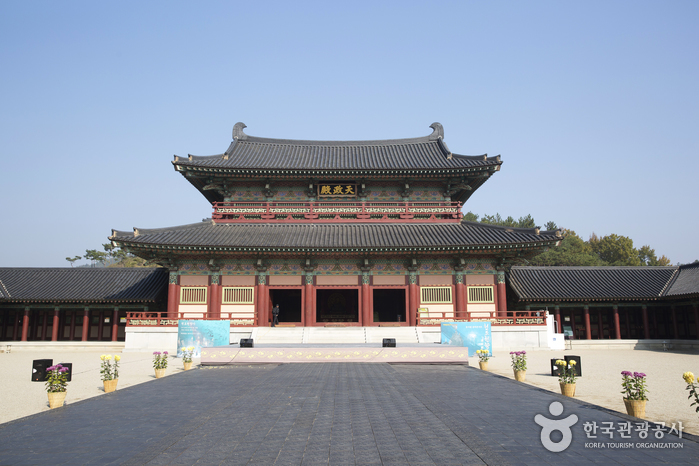 Zip Code : 33115
Phone number : +82-41-408-7274
Homepage :www.bhm.or.kr (Korean, English, Japanese, Chinese)
Address : 455, Baekjemun-ro, Gyuam-myeon, Buyeo-gun, Chungcheongnam-do
Driving directions : [Bus]
From Seoul Nambu Bus Terminal, take an intercity bus to Buyeo (부여).
From Buyeo Intercity Bus Terminal, turn left and go straight for 150m.
Take a bus bound for Buyeo-Sinseong (부여-신성), and get off at the Korea National University of Cultural Heritage (한국전통문화학교) Bus Stop.
Go straight for 100m, and turn left at the sign for the Baekjae Historical Museum (백제역사문화관).
Go straight for 100m to arrive at Baekje Cultural Land.
Summary
Baekje Cultural Land, built over a period of 17 years, is nestled in Gyuam-myeon, Buyeo-gun, Chungcheongnam-do, providing a home to Baekje's Cultural Heritages. The complex was used as a filming site for "Running Man", in the episode starring Jeong Wooseong and Han Hyoju.

The site is spread out over 3,276,000 square meters, filled with the trace of Baekje Culture. Sabigung Palace reproduces the scenery of a royal palace during the Three Kingdoms period, and Neungsa Temple, a royal temple representative of Baekje, has been recreated according to the real size at the historic site in Neungsan-ri, Buyeo-eup. The Five-story Stone Pagoda, prominently seen after passing through Daetongmun Gate and Wiryeseong Fortress during Hanseong Baekje Era, gives a different aspect of Sabigung Palace. To enjoy the entire view of the complex at once, get on the Jehyangnu ferry.
Tourist site
Contact and Information : • 1330 Travel Hotline: +82-2-1330
(Korean, English, Japanese, Chinese)
• For more info: +82-41-408-7274
Day off : Mondays (Tuesday if Monday is a holiday)
Experience guide :
Parking facilities : Free
Tour Course Information
▲ Course 1 (Duration: 1hr)
Baekje History & Culture Museum (3D viewing) → Jeongyangmun → Cheonjeongjeon → Neugsa → Living Culture Village → Jeongyangmun

▲ Course 2 (Duration: 2hrs)
Jeongyangmun → Cheonjeongjeon → Neungsa → Living Culture Village → Wiryeseong Fortress → Jeongyangmun → Baekje History & Culture Museum

▲ Course 3 (Duration: 3hrs)
Jeongyangmun → Cheonjeongjeon → Neungsa → Gobungongwon Park → Jehyangnu → Living Culture Village → Wiryeseong Fortress → Jeongyangmun → Baekje History & Culture Museum

Film Locations
Filming site of 'Running Man'
Admission Fees
Baekje Cultural Land (Baekje History & Culture Museum included)
Adults (ages 19-64): 6,000 won / Group: 4,500 won
Teenagers (ages 13-18): 4,500 won / Group: 3,000 won
Children (ages 7-12): 3,000 won / Group: 1,500 won

Baekje History & Culture Museum
Adults: 2,000 won / Group: 1,500 won
Teenagers: 1,500 won / Group: 1,200 won
Children: 1,000 won / Group: 800 won

* Group: 20 or more people
Available Facilities
Museum shop, restaurant, snack bar, rest area, facilities rental service (wheelchair, baby carriage, etc.)
Facilities for the Handicapped
Wheelchair rental services, restrooms, elevator (Baekje History & Culture Museum)
Korean Info. Service
03:30 / 10:30 / 11:00 / 13:30 / 14:30 / 15:30 / 16:30 (Summer Season)
Interpretation Services Offered
Interpretation Services in English, Japanese
+82-41-635-7740