Bandi Land (무주 반디랜드)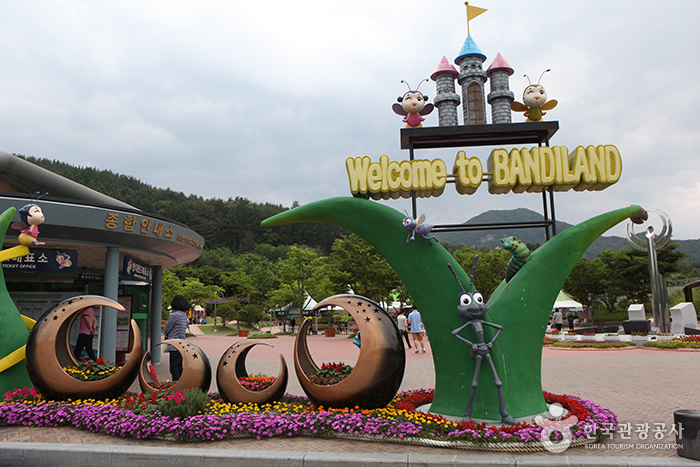 Zip Code : 55546
Phone number : +82-63-324-1155
Homepage :bandiland.muju.go.kr/
(Korean, English, Japanese, Chinese)
Address : 1324, Museol-ro, Seolcheon-myeon, Muju-gun, Jeollabuk-do
Driving directions :
[Bus]
From Seoul Nambu Bus Terminal, take a bus to Muju.
From the Muju Intercity Bus Terminal, take a bus bound for Seolcheon via Bandi Land.
Get off at Bandi Land.

* Seoul to Muju bus schedule: 07:40, 09:20, 10:40, 13:40, 14:35
* Note: You should NOT take a nonstop bus for Seolcheon, as it does not stop at Bandi Land.

Summary
Geared mainly towards children, Bandi Land is an excellent place to learn about and experience fireflies, insects. It is comprised of Insect Museum, Firefly researching lab, teenager's camping site, log cabin, and habitat of firefly.

Located inside of Bandi Land, Muju Bandibyeol Astronomical Science Museum teaches various stories about spaces, history and birth of space, solar system, constellation, and space circumstance as well as exhibitions related to firefly, indicator insect proving Muju is a clean area, to add more fun to visit this theme park.
Tourist site
Contact and Information : • 1330 Travel Hotline: +82-2-1330
(Korean, English, Japanese, Chinese)
• For more info: +82-63-324-1155
Day off : Mondays (Tuesday, if Monday is a holiday), New Year's Day, two days during Seollal (Lunar New Year's Day) & Chuseok (Korean Thanksgiving Day)
Experience guide :
Parking facilities : Available
Parking Fees
Free
Admission Fees
Insect Museum
Adults: 5,000 won / Group: 4,000 won
Teenagers & Seniors: 3,000 won / Group: 2 ,400 won
Children: 2,000 won / Group: 1,600 won

Astronomical Observatory & Science Center
Adults: 3,000 won / Group: 2,400 won
Teenagers & Seniors: 2,000 won / Group: 1,600 won
Children: 1,000 won / Group: 800 won

* Group: 20 people or more
* Teenagers (Middle school & High school), Children (ages 4-elementary school), Seniors (ages 65 or more)
* Utilization Fees for Main Telescope: 2,000 won
* Special program: 10,000 won

Available Facilities
Insect Museum, Bandi Observatory, Environmental Theme Park, Youth Camp, Log House
Facility Utilization Fees
* Accommodations


Facility

Size

Room rates

Log House

33㎡

77,000 won

66㎡

110,000 won


* Check-in time: 14:00 / Check-out time: 11:00