Hansan Mosi (Ramie Fabric) Museum (한산모시관)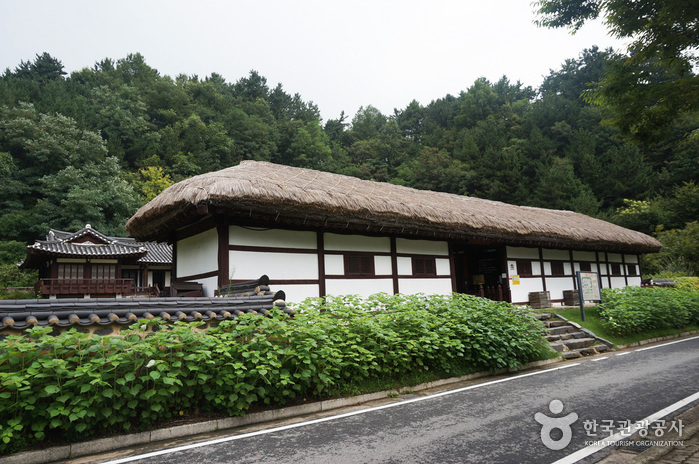 Zip Code : 33624
Phone number :
Homepage :mosi.seocheon.go.kr (Korean only)
Address : 1089, Chungjeol-ro, Hansan-myeon, Seocheon-gun, Chungcheongnam-do
Driving directions : From Seocheon Intercity Bus Terminal Bus Stop, take Nongeochon Bus bound for Seocheon-Hansan.
Get off at Hansan Mosigwan Bus Stop (approx. 40 min).
Summary
Hansan Mosi (Ramie Fabric) Museum, where you can experience Hansan ramie fabric and Hansan Sogokju

The Hansan Mosi (Ramie Fabric) Museum opened in August 1993 to preserve and promote the tradition and techniques of weaving ramie fabric. The 85,000 m2 area consists of Mosigak (a shrine), workshops, an education center, the Hansan Sogokju brewery, the Folklore Exhibition Hall, etc.

In the exhibition hall inside the education center are books about the history of ramie fabric, looms, tools for weaving ramie fabric, ramie fabric items, etc. The workshops demonstrate the process of making ramie cloth including making raw ramie thread called 'taemosi,' splitting thick raw ramie thread, connecting and aligning split ramie thread, starching it, and weaving it on a traditional loom. About 250 local cultural artifacts displayed in the exhibition hall show what the life of Koreans was like in the past. Every year, the exhibition hall displays new Hansan ramie clothes designed in modern styles. There is a shop that sells various ramie fabric products including ramie cloth. You can enjoy the Hansan Ramie Fabric Festival in May or June every year.


Tourist site
Contact and Information : • 1330 Travel Hotline: +82-2-1330 (Korean, English, Japanese, Chinese)
• For more info: +82-41-951-4100
Day off : Open all year round
Experience guide : Exhibitions (Hansan ramie-making process, history of ramie clothes, ramie fabric in other countries, Hansan ramie fabric as a future industry, etc.)
Workshops (Bang Yeon-ok/Nah Sang-deok's Workshops) Ramie fabric-related activity programs (ramie fabric & hanji [traditional Korean paper] making, daily-supplies making, ramie fabric dyeing, trying on ramie clothes)
* The above programs are subject to change. Please call in advance.
Parking facilities : Available
Admission Fees
Adults - Individual 1,000 won / Group 500 won
Students - Individual 500 won / Group 300 won
Children - Individual 300 won / Group 200 won

* Group prices apply to a group of 20 people or more.
* Free entrance (ID required): Seniors (age 65 and over), children age 6 and below
Parking Fees
Free
Available Facilities
Hansan Ramie Fabric Exhibition Hall, Bang Yeon-ok's Workshop, Nah Sang-deok's Workshop, Folklore Exhibition Hall, Ramie Thread-starching Workshop, Farming Tool Exhibition Hall, Mosigak (a shrine), Hansan Ramie Fabric Promotion Center, etc.
Restrooms
Available