Dae Jang Geum Park (Previously Yongin MBC Dramia) (용인 대장금 파크(구, 용인 MBC 드라미아))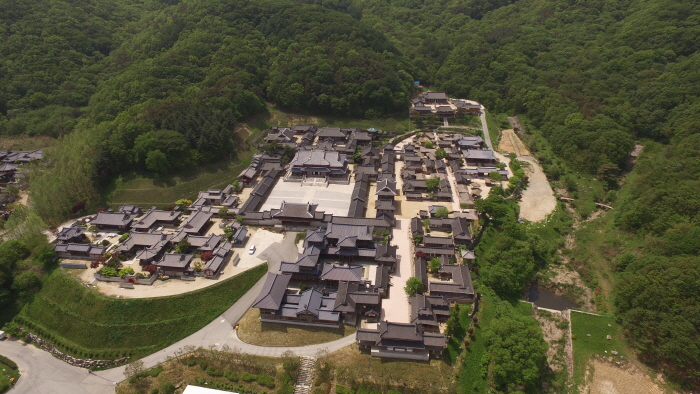 Zip Code : 17182
Phone number :
Homepage :djgpark.imbc.com (Korean, English, Japanese, Chinese)
Address : 25, Yongcheon drama-gil, Baegam-myeon, Cheoin-gu, Yongin-si, Gyeonggi-do
Driving directions : [Bus]
From Yongin Bus Terminal, take Bus No. 10 to Baekam.
- Transfer to Bus No. 105 and get off at MBC Set Bus Stop.
Summary
Dae Jang Geum Park in Yongin, Gyeonggi-do is the largest historical drama set in Korea and a hallyu themed park run by Munhwa Broadcasting Company (MBC). Located at 25, Yongcheon drama-gil, Baegam-myeon, Cheoin-gu, Yongin-si, Gyeonggi-do, the theme park was built on a 2,500,000㎡ site.

Facilities in the themed park are semi-permanent facilities reflected the architectural style, lifestyle and culture of the past, based on historical records. The facilities are in great harmony with the surrounding natural landscapes, which makes tourists feel as if they have traveled to the past in a time machine.

Popular dramas of MBC, such as "The Moon that Embraces the Sun (2012)," which made actor Kim Soo-hyun a super star, and "Gu Family Book (2013)" that starred Lee Seung-gi and Bae Suzy, were filmed at the Dae Jang Geum Park. "Dae Jang Geum (Jewel in the Palace; 2004)," a mega-hit drama that was exported to around 100 countries, was first shot in Yangju-si, Gyeonggi-do, but later filmed at the Dae Jang Geum Park.

In the park, you will be able to see buildings like Muryangsujeon Hall, Gyujanggak (Royal Library), Donggungjeon Palace (Crown Prince's Palace), and Hyeminseo (Medical Institution) that appeared in the drama. You can also enjoy various things in 23 tour zones like Jeojatgeori (downtown), Pocheong (Police Bureau) & Oksa (a prison), Injeongjeon Hall, Bopyeongjeon Hall, Yeonmujang (practice ground), and more. Among them, Donggungjeon Palace was the main filming spot for the drama "Dong-Yi (2010)," and Yeonmujang is often used as a filming spot for various battle scenes. Injeongjeon Hall was used for shooting large-scale banquet scenes. For example, the coronation ceremony scene in the drama "Queen Seondeok (2009)" and the final battle scene in "The Moon that Embraces the Sun(2012)" where Hweon (Kim Su-hyun) and Yangmyeong (Jeong Il-woo) fought against traitors were all shot here. Injeongjeon Hall is a popular set for major scenes of many dramas.

Dae Jang Geum Park is a well-known filming site for movies and commercials as well as MBC dramas. It also is used by foreign broadcasting networks including NHK to shoot historical scenes about Korea.

Tourist site
Contact and Information : • 1330 Travel Hotline: +82-2-1330
(Korean, English, Japanese, Chinese)
• For more info: +82-31-337-3241
Day off : N/A (open all year round)
Experience guide : 1. Tour of outdoor studios
2. Mongyuhyang (court costume rental)
- Try-on costumes that were used for dramas (paid service)
- Take photos with life-sized drama character figures with instant printing (paid service/Tourists can take photos with their own mobile phones or cameras for free)
Parking facilities : Available
Film Locations
Filming site for MBC dramas like Flower in Prison, Scholar Who Walks the Night, Hwajung, Shine or Go Crazy, Diary of a Night Watchman, Triangle, King's Daughter- Soo Baek Hyang, Jeong Yi, the Goddess of Fire, Gu Family Book, Guam Heo Jun, The Moon that Embraces the Moon, Jumong, Queen Seondeok, Yi San, Dong Yi, The Duo, Gyebaek, God of War, Dr. Jin, Arang and the Magistrate, Horse Doctor, etc.
Shopping Information
* Café The Moon that Embraces the Sun - Coffee, other beverages and snacks
* Café Mia - Coffee, tea, other beverages, cookies, instant ramen and other instant food
* Mongyuhyang (court costume rental) - Drama-related souvenirs and traditional souvenirs
Admission Fees
Adults 7,000 won / Middle & high school students 6,000 won / Ages 4 years - elementary school students 5,000 won

* Children under 4 years of age enter for free
* Groups of 20 people or more: 2,000 won discount
* Seniors (ages 65 and above) and men of national merit: 3,000 won discount
* People with a disability: 3,000 won discount (free admission for a companion)
Available Facilities
* Tour facilities
- Open studios (sets)
* Experience facilities (Mongyuhyang)
- Costume-wearing: Try on costumes used for dramas
- Photo shoots: Take photos with characters from dramas (instant printing service available)
* Convenient facilities
- Cafes and vending machines

Facility Utilization Fees
[Experience facilities] Try-on costumes: 20,000 won / Take photos: 20,000 won
* Take photos with mobile phones and cameras for free
Restrooms
Available
Parking Fees
Free
Interpretation Services Offered
Cultural tour docents available (English, Japanese, Chinese).
Reservation Info. for Foreigners
Reservations can be made online or by email.
* Email: djgpark@mbc.co.kr