Gwangmyeong Cave (광명동굴)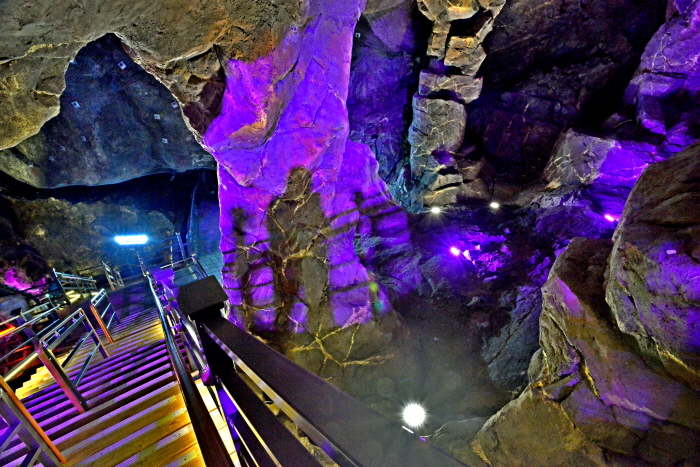 Zip Code : 14341
Phone number : +82-70-4277-8902
Homepage :Gwangmyeong Cave www.gm.go.kr (Korean, English, Japanese, Chinese)
Official Facebook Page www.facebook.com/GMC1912 (English)

Address : 142, Gahak-ro 85beon-gil, Gwangmyeong-si, Gyeonggi-do
Driving directions : [Subway]
1. Get off at Cheolsan Station (Seoul Subway Line 7), Exit 2. Cross the road to take Bus No. 17 and get off at Gwangmyeong Cave Bus Stop (last stop).
2. Get off at Cheolsan Station (Seoul Subway Line 7), Exit 2. Take Bus No. 11-2 and get off at Gwangmyeong Cave Parking Lot 3 Bus Stop.
3. Get off at Seoksu Station (Seoul Subway Line 1), Exit 2. Take a taxi for about 18-min.


Summary
Gwangmyeong Cave is where joys and tears of coal mining workers remained intact. It was the heart of the evolution of modern industries in Korea and also a historical site of the Japanese colonial period. It takes pride itself as being the only one cave found in the metropolitan cities.

After going through a complete transformation, the cave re-opened its door in 2011 as a living museum and a historical site. Cave Aqua World, the music and art hall, and golden waterfall, golden paths and golden palaces adds extra mysterious elements to its exisiting exotic atmosphere.
Tourist site
Contact and Information : • 1330 Korea Travel Hotline: +82-2-1330
(Korean, English, Japanese, Chinese)
• For more info: +82-70-4277-8902
Day off : Seollal (Lunar New Year's Day) & Chuseok (Korean Thanksgiving Day) Holidays
* Make a phone-inquiry to check for availability as it is subject to changes depending on the situations.
Experience guide : - Mining experience: gold panning, mineral panning
- Wine sampling
- Hanging on a golden plague
* Separate fees applicable for all hands-on activities.
Parking facilities : Available

- Parking Lot 1 and 2 (Gwangmyeong Cave Entrance):
1,500 won (Small Vehicles) / 3,000 won (Medium Vehicles) / 4,000 won (Large Vehicles)
- Parking Lot 3 (Army Unit, Soha-dong):
600 won for first 30-min; additional 200 won for every 10-min exceeded

*Gwangmyeong Cave ticket holders are exempted from parking fees.
Admission Fees
[Gwangmyeong Cave (including Wine Cave)]
Adults 6,000 won / Group 5,000 won
Youths 3,500 won / Group 3,000 won
Children (ages 3~elementary school students) 2,000 won / Group 1,700 won

* Group: 20 or more people
* Free admission for infants (aged 3 & below) and seniors (ages 65 & over).
* Please be aware that those who are exempt from the general entrance fee are still required to pay the entrance fee for wine cave (Adults 1,000 won / Youths and Children 500 won)
Available Facilities
Elephant Tour Bus Aixia: 23-seaters Eco-Friendly Electronic Bus
Operating hours: 09:00~16:30
(runs every 30 min / 12 times a day / 12:00-13:00 no bus service)
* Operating Fee: Adults 2,000 won/ Teenagers & Children 1,000 won
* During winter season, or in the event of rain, there will be no bus service.

Korean Info. Service
[Guided tour by professional commentator]
Weekdays: tour runs every 30 min.
Weekends and public holdiays: every 10-20 mins

Reservation Info. for Natives
Group booking for minimum of 20 people
Reservation required 7 days in advance. (Group booking is not available on Mondays, weekends and public holidays)
* Special requests such as sign or foreign languages including English, Japanese and Chinese should be made known when making reservation.