Donguibogam Village (동의보감촌 (산청한방테마파크))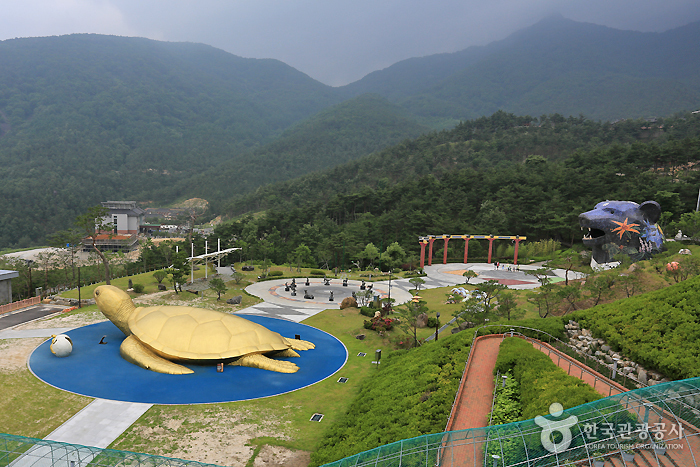 Zip Code : 52229
Phone number :
Homepage :tour.sancheong.go.kr (Korean, English, Japanese, Chinese)
Donguibogam Village donguibogam-village.sancheong.go.kr (Korean, English)
Address : 45-6, Donguibogam-ro 555beon-gil, Geumseo-myeon, Sancheong-gun, Gyeongsangnam-do
Driving directions : [Bus]
From Seoul Nambu Bus Terminal, take an intercity bus to Sancheong Intercity Bus Terminal.
- From Sancheong Intercity Bus Terminal, take a taxi to the park (15-20 min).
Summary
Opened in May 2010, the Donguibogam Village (Sancheong Oriental Medicine Theme Park) is the first herbal medicine-themed park in Korea. The themed park was designed based on the five elements of the universe according to traditional Korean medicine. The village combines eco-friendliness and traditional Korean medicine content and used eco-friendly materials for various objects including the bear and tiger characters of the village, statues, waterscape facilities, symbols, as well as other artificial displays.
Tourist site
Contact and Information : • 1330 Travel Hotline: +82-2-1330 (Korean, English, Japanese, Chinese)
• For more info: Donguibogam Village +82-55-970-7216
Day off : N/A (Open all year round)
Experience guide : Visitors can experience Korean herbal medicine in facilities like Ki Experience Hall (ki exercise and thermotherapy), Sancheong Medicinal Herb Hall (exhibition of local and foreign medicinal herbs as well as activity programs), the Sancheong Museum of Herbal Medicine (learning traditional Korean medicine), a medicinal herb sauna and swimming pools in the forest. The village runs Healing Academy (2-day-1-night program) occasionally.
Parking facilities : Available
Admission Fees
Visitors can enter Donguibogam Village free of charge.
* Need to buy tickets for Themed Hall and the Sancheong Museum of Herbal Medicine
Available Facilities
A pavilion, observatory, pathway, swimming pools, drinking fountain, outdoor stage, photo zone, etc.
Parking Fees
Free
Restrooms
Available
Interpretation Services Offered
Available (Reservations are required)
Reservation Info. for Foreigners
Reservations can be made every day.