Chuncheon Oksanga (Okgwangsan Jade Mine) (춘천 옥산가 (옥광산))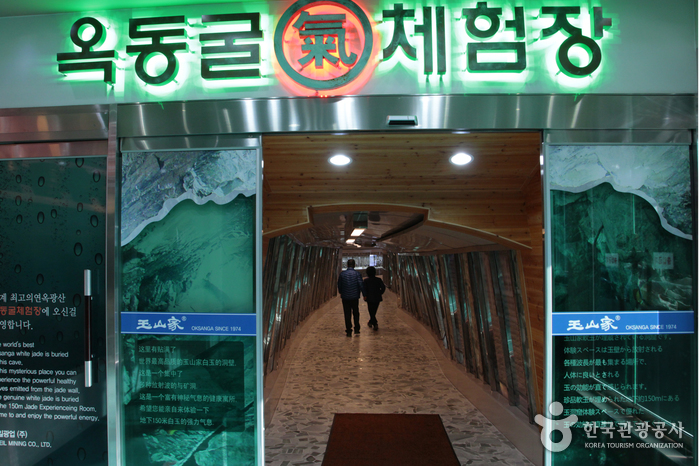 Zip Code : 24211
Phone number :
Homepage :www.oksanga.com (Korean only)
Address : 228, Geumok-gil, Dong-myeon, Chuncheon-si, Gangwon-do
Driving directions : [Subway] Chuncheon Station (Gyeongchun Line), Exit 1.
Take Bus No. 12 and get off at the Bank of Korea.
Transfer to Bus No. 66 and get off at Okgwangsan.
Turn around, and go straight for approx. 100 m to arrive at Oksanga.
Summary
The Oksanga (also known as Chuncheon Okgwangsan Jade Mine) on Geumokdong Valley in Chuncheon-si, Gangwon-do, is the only jade mine in Korea and the only white jade mine in the world. It was built in 1972 with the sole purpose of creating a jade mining facility. It now offers tours of the caves and even a steam sauna experience.

On one side of the facility is a sauna room and to its left is a cave experience center. Various jade formations along both sides of the cave lead to a long platform where visitors can stop for a break. At the end of the tunnel, visitors can sample okjeongsu (jade mine ground water) gathered from inside the cave. The number of people visiting Oksanga continues to increase due to the okjeongsu's unique taste and its effects known to help ease hemorrhoids, constipation, and indigestion. A gift shop also offers a wide range of jades and related products at discounted prices including rings, necklaces, and even beds as well as a restaurant serving foods made with okjeongsu water.
Tourist site
Contact and Information : • 1330 Travel Hotline: +82-2-1330 (Korean, English, Japanese, Chinese)
• For more info: +82-33-241-2509 (Korean only)
Day off : Open all year round
Experience guide :
Parking facilities : Available
Admission Fees
Jade Mine Experience Center - 5,000 won (Discount available for a group of 20 or more people)
Available Facilities
* Jade Mine Experience Center
* Jade Mine Sauna Room, Souvenir Shop