Baegyangsa Temple (백양사)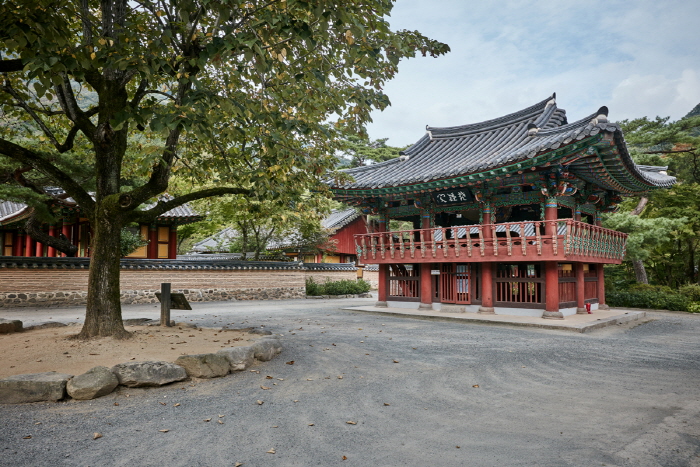 Zip Code : 57205
Phone number : +82-61-392-7502
Homepage :baekyangsa.or.kr (Korean only)
baekyangsa.templestay.com (Korean only)
Address : 1239, Baegyang-ro, Bukha-myeon, Jangseong-gun, Jeollanam-do
Driving directions : From Gwangju Central Bus Terminal (U-Square) take a non-stop bus bound for Baegyangsa Temple.
Summary
Founded during the reign of King Mu of the Baekje Dynasty (632), Baegyangsa Temple is located within Naejangsan National Park. The combination of the mountain and valleys on both sides creates beautiful scenery. Nature reveals its beauty throughout all seasons here, especially through the red maple leaves in fall. Daeungjeon Hall, Geungnakbojeon Hall and Sacheonwangmun Gate have been designated as cultural assets. Walk along the wood path lined-up of white oaks and maple trees, go through the entrance of Baegyangsa Temple, and the sight of Ssanggyeru Pavilion will come into view. Daytime visitors to Baegyangsa Temple can appreciate the breathtaking view of Ssanggyeru Pavilion admist the shimmering pond.
Tourist site
Contact and Information : • 1330 Travel Hotline: +82-2-1330
(English, Korean, Japanese, Chinese)
• For more info: +82-61-392-7502,
+82-61-392-7822, +82-61-392-0434
Day off : N/A (Open all year round)
Experience guide : [Templestay]
Retreat templestay (available at anytime)
Experiential templestay (3 days)
* Reservation: baekyangsa.templestay.com
Parking facilities : Available
Admission Fees
Individuals: Adults 3,000 won / Teenagers 1,000 won / Children 1,000 won
Groups: Adults 2,500 won / Teenagers 1,000 won / Children 500 won
* Groups of 30 people or more
Parking Fees
[Peak season]
[Compact car] 2,000 won / [Sedan] 5,000 won / [Large-sized car] 7,500 won / [Freight truck] 4,000 won / [Mini bus] 5,500 won

[Low season]
[Compact car] 2,000 won / [Sedan] 4,000 won / [Large-sized car] 6,000 won / [Freight truck] 3,000 won / [Mini bus] 4,500 won