Andong Folk Village (안동민속촌)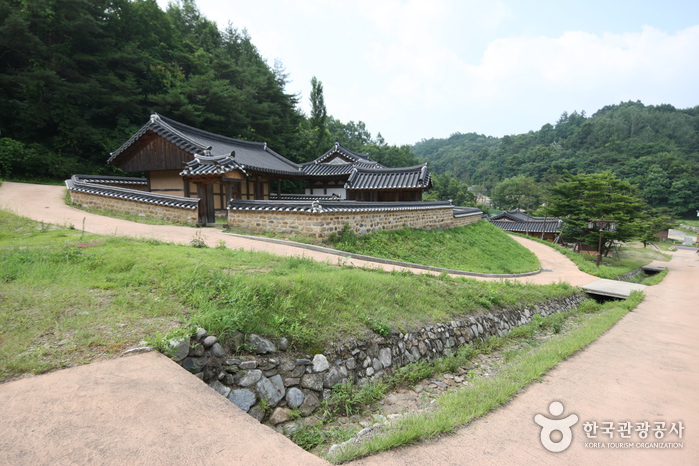 Zip Code : 760-360
Phone number : +82-54-852-6800
Homepage :www.tourandong.com
Address : Seonggok-dong, Andong-si, Gyeongsangbuk-do
Driving directions : [Bus]
From Dong Seoul Bus Terminal, take an intercity bus to Andong Intercity Bus Terminal.
From Andong Intercity Bus Terminal, take Bus No. 3 headed for Andong Dam and get off at Andong Folk Museum Bus Stop.
Summary
On the other side of the subsidiary dam of Andong Dam, thatched houses can be sparsely seen on a hilltop. The area is the folk scene site where an outdoor museum is built. Two jangseung (traditional Korean totem poles) are raised at the entrance of the outdoor museum, followed by a monument inscribed with the poem of famous Andong poet and democracy activist, Lee Yuk-sa. On the monument, his most noted work "Gwangya" (Wild Plain) is carved.

Nearby attractions include Andong Folk Village near Andong Dam, along with Andong Museum, Lee Yuk-sa Monument, a filming site of "Taejo Wanggeon (2000)," and Andongho Lake.
Tourist site
Contact and Information : • 1330 Travel Hotline: +82-54-1330
(Korean, English, Japanese, Chinese)
• For more info: +82-54-852-6800
Day off :
Experience guide :
Parking facilities : Available
Film Locations
Drama "Taejo Wang Geon (2000)"
Admission Fees
Free
Available Facilities
Various traditional architectures, KBS film set
Restrooms
Available
Parking Fees
Free