Andong Folk Village & Andongho Lake (안동민속촌과 안동호)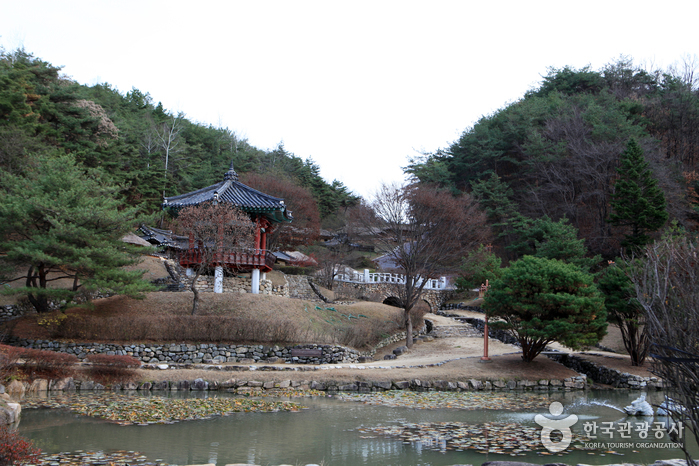 Zip Code : 760-360
Phone number : +82-54-854-3669
Homepage :www.tourandong.com
(Korean, English, Japanese, Chinese)
www.adfm.or.kr (Korean, English)
Address : Seonggok-dong, Andong-si, Gyeongsangbuk-do
Driving directions : * Take an intercity bus from Dong Seoul Bus Terminal (Gangbyeon station, Subway Line 2) to Andong (Bus schedule: 06:00 -23:00, 20-30 min intervals / Estimated travel time: 2hrs 50min)

Local City Bus: From Andong Intercity Bus Terminal, take city bus No. 3 headed for Andong Dam.
Get off at Andong Folk Museum (15 min ride).
Taxi: Takes 10 min from Andong Station.

Summary
On the other side of the subsidiary dam of Andong Dam, thatched houses can be sparsely seen on a hilltop. The area is the folk scene site where an outdoor museum is built. At the entrance of the outdoor museum two jangseungs (traditional Korean totem poles) are set, followed by a monument inscribed with the poem of famous Andong poet and democracy activist, Lee Yuk-sa. On the monument, his noted works "Gwangya" (Wild Plain) is carved.

Near the Dam, are the Andong Folk Village, Andong Museum, Lee Yuk-sa Monument, a filming site of "Taejo Wanggeon," and Andongho Lake.
Tourist site
Contact and Information : • 1330 Travel Hotline: +82-54-1330
(Korean, English, Japanese, Chinese)
• For more info: +82-54-854-3669, +82-54-821-0649(Korean)
Day off : All year round
Experience guide :
Parking facilities : 200 spaces