Baekdamsa Temple (백담사)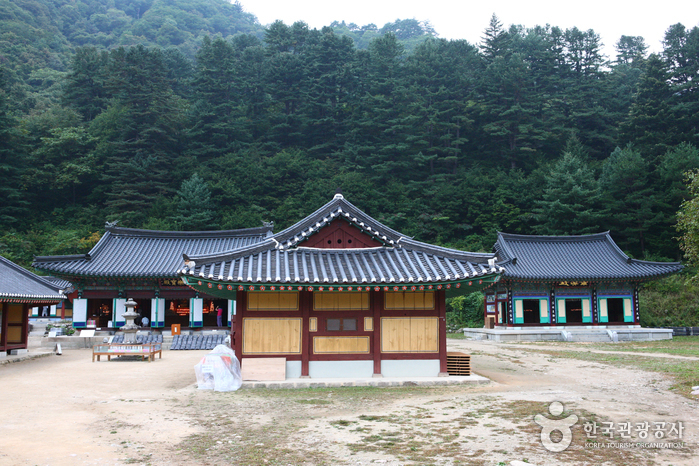 Zip Code : 24606
Phone number : +82-33-462-6969
Homepage :www.baekdamsa.org (Korean only)
Address : 746, Baekdam-ro, Inje-gun, Gangwon-do
Driving directions : [Bus]
From Dong Seoul Bus Terminal, take an intercity bus to Baekdamsa Intercity Bus Terminal.
From Baekdamsa Intercity Bus Terminal, Walk for approx. 1.1km.
Summary
Located within Seoraksan Mountain, Baekdamsa Temple was built by Ja Jang (590~658) during the reign of Queen Jin-Deok (647-654), 28th ruler of the Silla Kingdom. In the beginning, a temple called Hangyesa was built in Hangye-ri which was in the vicinity to Jangsudae Cliff. This temple was completely demolished by several fire accidents including one in the year 690, during the reign of King Sinmun. It changed its locations to several other sites and was renamed Youngchuisa, Simsa, Baekdamsa, and Simwonsa Temple.

A stone bridge called Susimgyo is built across Baekdam Gyegok Valley to the front of Baekdamsa Temple. Wooden Amityus Buddha Statue, designated as National Treasure No.1182, is preserved here at Baekdamsa Temple. This Buddhist statue was made in 1748 during the reign of Yeongjo (reign 1724~1776) and is known as the most outstanding statue in the early 18th century. Currently remaining structures include Geukrakbojeon, Sanryeonggak, Hwaeomsil, Beophwasil, Jeongmun, and Yosachae. In the courtyard, there is a three-story stone temple remaining to this date. As for temples, Bongjeongam, Oseam, and Wonmyeongam remain till today.

Baekdamsa Temple was made famous by Manhae Han Yong-Un, a strong activist for national independence and poet who wrote his literary piece called "Nimui Chimmuk (Silence of the Beloved)" when he was just 48. Today, Baekdamsa Temple has the Manhae Monument Hall, built to remember the spirit of Manhae Han Yong-Un.
Tourist site
Contact and Information : • 1330 Travel Hotline: +82-2-1330
(Korean, English, Japanese, Chinese)
• For more info: +82-33-462-6969
Day off : N/A (Open all year around)
Experience guide : [Baekdamsa Templestay]
* Retreat program (less formal) with beautiful night sky and moon
* Temple stay with beautiful stars
* Meditation in search for dreams and hope
* Hands-on program with Naeseorak
* More information is available on the homepage or via phone-inquiry.
Parking facilities : Available
Hiking Course
Baekdamsa Temple - Suryeomdong - Bongjeongam - Socheongbong Peak – Daecheongbong Peak (19km / 8 hrs)

Baekdamsa Temple - Daeseungnyeong – Daeseung Falls – Jangsudae (7.8km / 5hrs)

Baekdamsa Temple - Yeongsiam - Oseam – Madeungnyeong (10.9km / 4hrs)

Baekdamsa Temple – Heukseondong Valley - Daeseungnyeong – Jangsudae
(9.8km / 5hrs 15min)

Yongdaeri - Baekdamsa Temple – Suryeomdong Shelter (14km / 3hrs 20min)

Suryeomdong - Ssangnyongpok - Bongjeongam - Socheong - Jungcheong – Daecheong (7km / 5hrs 5min)

Suryeomdong - Oseam - Madeungnyeong - Biseondae – Sinheungsa Temple
(12km / 6hrs 15min)

Suryeomdong - Gayadong - Huiungak - Socheong - Jungcheong –Daecheong
(11km / 6hrs 35min)
Restrooms
Available