Archaeological Site in Seokjang-ri, Gongju (공주 석장리 유적)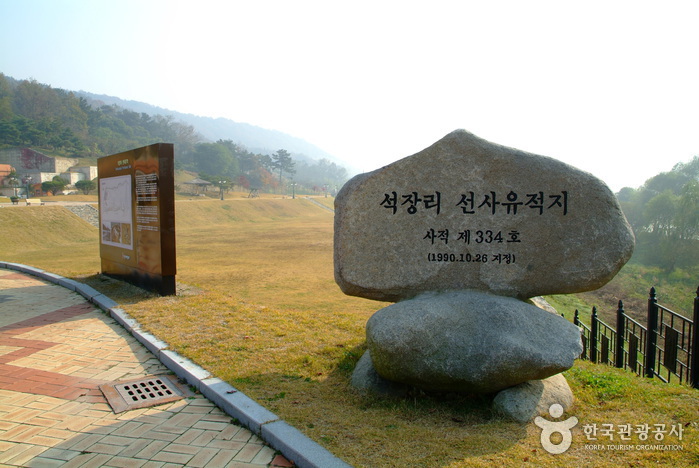 Zip Code : 32591
Phone number : +82-41-840-8924
Homepage :www.sjnmuseum.go.kr (Korean only)

www.cha.go.kr (Korean, English, Japanese, Chinese)
Address : 990, Geumbyeok-ro, Gongju-si, Chungcheongnam-do
Driving directions : From Seoul Express Bus Terminal, take an express bus to Gonju Bus Terminal.
From Gonju Bus Terminal Bus Stop, take Bus No. 570 to Seokjang-ri Bus Stop. Walk approx. 172 m to the attraction.
Summary
Archaeological Site in Seokjang-ri, Gongju is located approximately 6km out of the city of Gongju, on the northern banks of the Geumgang River. The site is one of Korea's representative relic sites of the Old Stone Age, and is designated Historic Site No. 334. The site was excavated 10 times between 1964 and 1974 by teams from Yonsei University Museum. The excavation of 27 layers of stratum produced relics proving people lived in the area through 11 cultural eras. The area was excavated again in 1990 and 1993, producing even more cultural artifacts and helping to create a clearer image of the people living in that time.
Tourist site
Contact and Information : • 1330 Travel Hotline: +82-2-1330
(Korean, English, Japanese, Chinese)
• For more info: +82-41-840-8924
Day off : [Museum] Seollal (Lunar New Year's Day) and Chuseok (Korean Thanksgiving Day) holidays /
Other holidays designated by Gongju city
Experience guide :
Parking facilities : Available
Admission Fees
[Museum]
Individual - Adults 1,300 won / Teenagers 800 won / Children 600 won
Group - Adults 1,200 won / Teenagers 700 won / Children 500 won

Group: 20 or more people
* Free admission for national guests, diplomatic delegations, and foreign guests from any organistion in sisterhood relationships with public organizations in Korea
Available Facilities
Museum
Restrooms
Available
Korean Info. Service
Phone reservation
* Museum guided tour: approx. 40 mins
* Inquiries & reservation: +82-10-5024-2421