Altteureu Airfield & Japanese Occupation-Era Hangars (알뜨르비행장 및 일본군 비행기 격납고)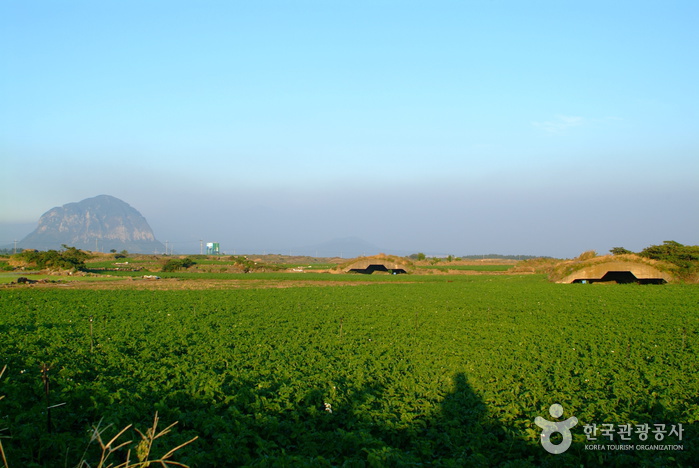 Zip Code : 63513
Phone number : +82-64-740-6000
Homepage :www.visitjeju.net
(Korean, English, Japanese, Chinese)
www.cha.go.kr
(Korean, English, Japanese, Chinese)
Address : 1670, Sangmo-ri, Daejeong-eup, Seogwipo-si, Jeju-do
Driving directions : From Seogwipo Shinsigaji Intercity Bus Terminal, take an intercity bus bound for Seogwi, Sinchang-ri. Jeju) and get off at Igyo-dong Bus Stop (25 bus stops).
From the bus stop, walk for 1.96 km to the airfield.
(The airfield is located along Olle trail route 10)

Or, take a taxi to the airfield from the bus terminal.
(About 31 km away / about 27,000 won)

Call the Korea Travel Hotline for assistance with directions.
Summary
The airfield was built by Jeju-do residents under force by the Japanese army during the Second World War. Visitors can explore the airfield, the control tower, an anti-aircraft emplacement, and a hangar at the site. There are relics of the Japanese army and tragic relics of Korea's modern history at 4.3 Historic Site and Jinji Cave in the vicinity to Songaksan Mountain and close to the airfield.
Tourist site
Contact and Information : • 1330 Travel Hotline: +82-2-1330
(Korean, English, Japanese, Chinese)
• For more info: +82-64-740-6000~1
Day off :
Experience guide :
Parking facilities :
Information Not Available!