Bukchon Heritage Studio (북촌민예관)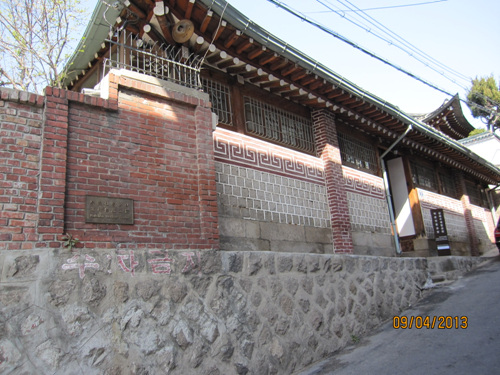 Zip Code : 03052
Phone number : +82-2-5448403
Homepage :www.bukchonstudio.com
(Korean, English)
Address : 1, Bukchon-ro 11ga-gil, Jongno-gu, Seoul
Driving directions : 1) Anguk Station (Seoul Subway Line 3), Exit 2.
Cross the road in front of Samcheong MG Community Credit Cooperatives - Gahoe Branch and walk toward Gahoe Gallery for 50m.
Take a left in front of the gallery and walk along Bukchon-ro 11-gil for 100m to find the venue on your right. (10-min walk from the station)

Or, take Village Bus 2 from Exit 2 and get off at Donmi Phamacy Bus Stop.
The venue is about 40m into in the alley where Donmi Pharmacy is located.
Summary
Bukchon Heritage Studio is a hands-on culture space where visitors can experience traditional Korean cultural heritages. It is located in a large Korean-style house at the entrance of Bukchon Hanok Village.

The studio provides various things to see and enjoy in which the traditional and the new are harmoniously mixed. Exhibitions display artwork created by intangible cultural assets and great masters. The exhibitions also present Korean traditions from ancient art to modern art and how the process has developed. Also, chances to see the production process of Seoul's traditional folk alcoholic beverage "samhaeju" and sample it are offered. Other hands-on programs include traditional food programs.

* First opened on April 5, 2013
* Founded by Cho Yongsik, Kim Yangsu, Kim Tonghwan
* Collection: statue of the Buddha from Goryeo Dynasty, metallic cultural assets such as a tower and incense burner, works of contemporary artists including Paik Nam-june, Seo Se-ok, Byun Chong-gon, and Choi Byung-hoon and modern and contemporary furniture designed by Ettore Sottsass, Michele de Lucchi, Gaetano Pesce, and George Nelson
Tourist site
Contact and Information : • 1330 Travel Hotline: +82-2-1330 (Korean, English, Japanese, Chinese)
• For more info: +82-70-8834-8401
Day off : N/A (Open all year round)
Experience guide : [Samhaeju Academy]
Period: 7 weeks
Fares: 300,000 won per one person

[Manufacturing Samhaeju]
Hours: 2 hour
Fares: Additonal inquiry requied

[Sampling Samhaeju]
Samhae Makgeolli, Samhae Yakju, Samhae Soju Set 10,000 won
Parking facilities : Not available
Admission Fees
Free
Restrooms
Available
Facilities for the Handicapped
Not available
Korean Info. Service
Available
Interpretation Services Offered
Available in English, Chinese, Japanese
Reservation Info. for Natives
Phone reservation required
Reservation Info. for Foreigners
Phone or e-mail reservation required