Beomeosa Temple Stay (범어사 템플스테이)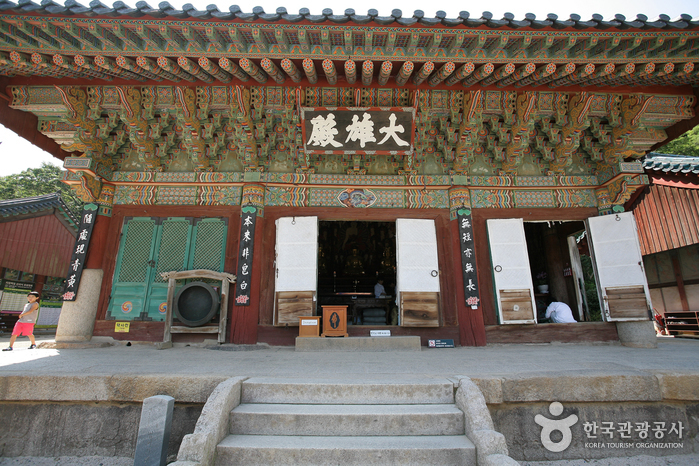 Zip Code : 46200
Phone number : +82-51-508-5726
Homepage :www.beomeosa.co.kr (Korean, English)
Address : 250, Beomeosa-ro, Geumjeong-gu, Busan
Driving directions : Beomeosa Temple Station (Busan Subway Line 1), Exit 5.
Go straight along the Cheongnyongyejeon-ro (located between Exit 5 and Exit 7) for 200m until you see the Samsin Bus Stop (11-011).
Take Bus 90 bound for Beomeosa Temple(범어사).
* Bus schedule: 15min intervals

Take Bus 37, 47, 48, 49-1, 50, 50-1, 80-1, 147, 148, 247, or 301, get off at the last stop and take Bus 90 to Beomeosa Temple(범어사).

Summary
Beomeosa Temple, located in Geumjeongsan Mountain in Busan, is one of the three major temples in Korea, together with Haeinsa and Tongdosa. Up until today, the passion of practitioners of this temple continues, a passion that did not waver even during the war.

The temple stay program has two types: the experience program and the relaxation program. Centering on chamseon (Zen meditation), the experience program includes yebul, 108 prostrations, and dado (tea ceremony). With the relaxation program, you may choose to take chamseon (Zen meditation) or have conversation with a monk over a cup of tea. The temple is close to downtown and you can use a city tour bus with departure/final stop in Busan Station to take a tour around the city.

Tourist site
Contact and Information : • 1330 Travel Hotline: +82-2-1330
(Korean, English, Japanese, Chinese)
• For more info: +82-51-508-5726
Day off :
Experience guide : 1. Experiential Program
This program, which opens once a month, offers both newbies and Buddhists an opportunity to experience the day-to-day lives of the monks in the temple.
2day 1night program with foreigners is 50,000 won for adults, 45,000 won for secondary school students and 40,000 won for elementary students.

2. Hiking Type Program
Experiencing temple culture and learning the Buddhist spirit while hiking Geumjeongsan Mountain in spring and autumn.

3. Resting-style Program
Based on some of the basic programs, this offers more free time to look back on your life while meditating, taking a walk or visiting hermitages. This 1night 2 days program has two types: one for Koreans and another for foreigners.

4. Special Program
Special temple stay program for those who want to focus on certain activities or to have more intensive practice/meditation.Buddhist Practice Program (for summer and winter): On top of basic programs, such programs as three-steps, one-bow or 108 prostrations are included.
(1) Buddhist Practice Program (for summer and winter): On top of basic programs, such programs as three-steps, one-bow or 108 prostrations are included.
(2) Youth Program: 3days 2nights program exclusively for middle & highs school students concentrating on the practice of mind and body

5. Group Temple Stay
Provide customized program for a group of over 20 people staying more than one night

6. Group Temple Life
Provide customized program for a group of over 20 people staying for 2~5 hours in the temple to experience the culture.

Parking facilities : Available
Reservation Info. for Foreigners
Reserve on-line at www.beomeosa.co.kr
Interpretation Services Offered
English (It is recommended to check schedule on-line.)