Bongeunsa Temple Stay (봉은사 산사체험)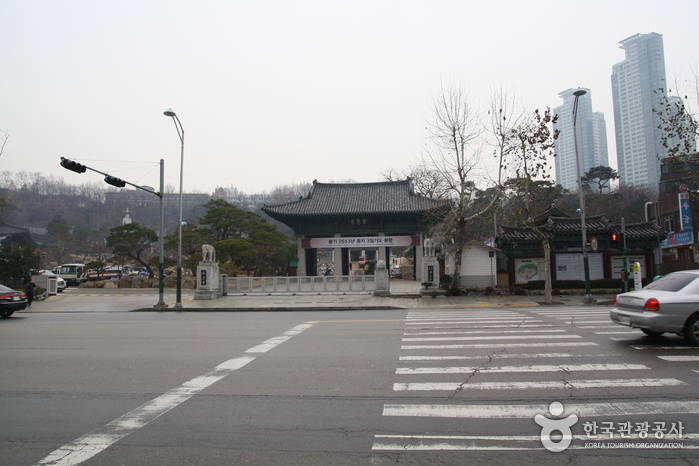 Zip Code : 06087
Phone number : +82-2-3218-4895
Homepage :www.bongeunsa.org (Korean only)
Address : 531, Bongeunsa-ro, Gangnam-gu, Seoul
Driving directions : [Subway]
Samseong Station (Seoul Subway Line 2), Exit 6.
Go 150m forward, and cross the street to arrive at Bongeunsa Temple.

Or
Cheongdam Station (Seoul Subway Line 7), Exit 2.
Go 600m forward, and turn left.
Go 3 blocks down to arrive at Bongeunsa Temple.
Summary
Bongeunsa Temple, located on Sudosan Mountain in Samseong-dong, Gangnam-gu, offers a 2-day, 1-night temple stay program designed to provide urbanites with an opportunity to take a break from their busy routines and meditate on Buddhist teachings. Every Thursday, the temple also holds 'Thursday Temple Life' for foreign visitors only. The temple has a volunteer group to help and accommodate the needs of foreigners attending the program.
Tourist site
Contact and Information : • 1330 Travel Hotline: +82-2-1330
(Korean, English, Japanese, Chinese)
• For more info: +82-2-3218-4895 /
+82-10-5219-5770 (Korean only)
Day off : Seollal (Lunar New Year), Chuseok (Korean Thanksgiving)
Experience guide : [Temple Stay]
- The 2 days, 1 night program begins at 14:00 on the first day and ends at 09:30 on the second day.
- Participants: groups of 10-30 people
- Fees: 70,000 won per person
- Features: Temple Tour, Tea Ceremony (Da-do), Baru Gongyang (formal monastic meal), yebul (the Buddhist ceremony), making prayer beads, meditation, conversation with a monk over tea, 108 prostrations
- Notices: Please wear socks and do not wear sleeveless tops or shorts when visiting the temple during the summer season.

[Thursday Temple Life (for foreigners only)]
- Period: Every Thursday / January 1, 2012 - December 31, 2012
- Time: 14:00-16:30
- Registration: On-site registration is available at the Foreigners' Information Center.
- Fees: 20,000 won per person

[Group Temple Life]
- Period: January 1, 2012 - December 31, 2012
- Duration: 1 day
- Participants: groups of at least 5 people (Groups of 30 or more people will be divided into smaller groups).
Parking facilities : Available
Restrooms
Available
Parking Fees
First 30 minutes: Free
Each additional hour: 30,000 won
All-day: 20,000 won
Interpretation Services Offered
English, Japanese, Chinese