Borinara Hagwon Farm (보리나라 학원농장)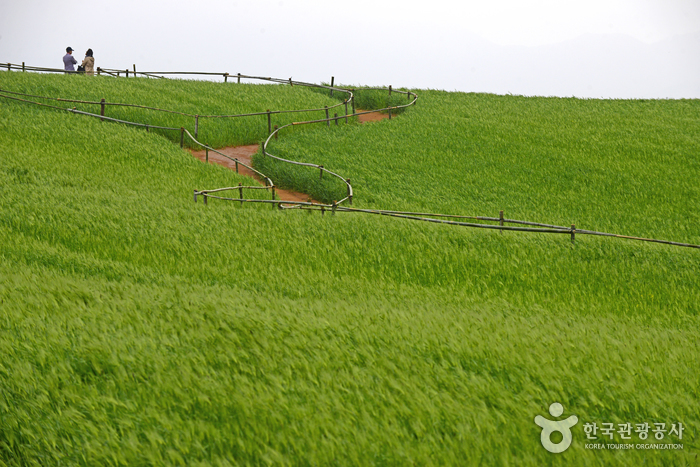 Zip Code : 56462
Phone number :
Homepage :www.borinara.co.kr (Korean only)
Address : 158-6, Hagwonnongjang-gil, Gongeum-myeon, Gochang-gun, Jeollabuk-do
Driving directions : [Express/Intercity Bus]
Take a bus from Central City Bus Terminal to Gochang.

[Taxi]
Approx. 30 min. from Gochang Bus Terminal.
Summary
Borinara Hagwon Farm is a large-scale barley farm that measures an extensive 561,983m². It is the nation's largest barley field, requiring a full week to harvest the crop. The field also hosts Green Barley Festival to celebrate the burgeoning beauty of the spring season. The festival is the perfect getaway where you may enjoy walking through the rolling green hills. A diverse range of family-friendly, hands-on events are available to visitors who wish to truly capture the country experience.

Once the barley harvest is completed, the buckwheat harvest begins. From late summer to early autumn, the field is filled with snow-white buckwheat flowers that create a seemingly endless, breathtaking view. The Buckwheat Flower Festival takes place around September. Between the barely harvest and the buckwheat seeding, sunflowers color the field a bright yellow. Whether it be spring or autumn, you can enjoy the ever-changing beauty of nature all year long.
Tourist site
Contact and Information : • 1330 Travel Hotline: +82-2-1330
(Korean, English, Japanese, Chinese)
• For more info: +82-63-564-9897
Day off :
Experience guide : [Hagwon Farm Festivals]
Green Barley Field Festival
- Period: April~May annually at the barley field

Sunflower Festival

Buckwheat Flower Festival
- Period: August~October annually
Parking facilities : Available
Available Facilities
Green barley field, walking path, accommodations, agricultural and farmer's market, restaurants, etc.
Restrooms
Available