Bisl Pottery Studio (비슬도예원)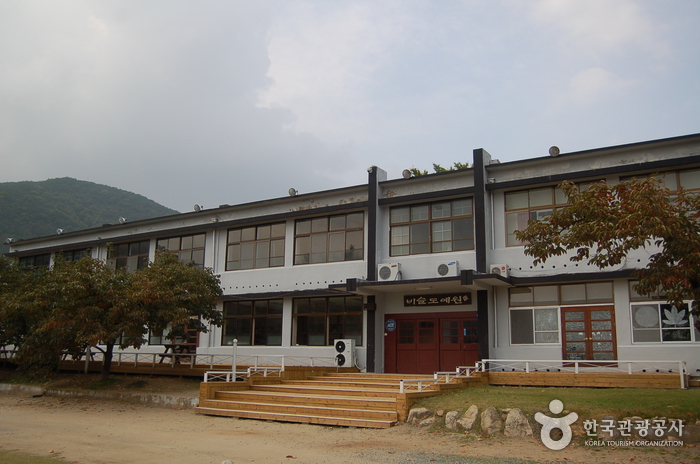 Zip Code : 38302
Phone number : +82-54-371-5588
Homepage :www.ebisl.net (Korean only)
Address : 787, Heolti-ro, Gakbuk-myeon, Cheongdo-gun, Gyeongsangbuk-do
Driving directions : * Seoul Station – Dong Daegu Station (KTX) - Cheongdo Station (travel time: about 4 hours 30 min)
* From Cheongdo Intercity Bus Terminal, take a bus bound for Gakbuk(각북), pass Punggak(풍각), and get off at the "Bisl Pottery Studio" (비슬도예원) (You will have to tell the driver to stop at Bisl Pottery Studio)
Summary
Located in Cheongdo-gun, Gyeongsangbuk-do, the Bisl Pottery Studio is run by potter Kim Byeong-Yeol. An old abandoned school was renovated into a serene studio where you can make your own pottery while taking in the beauty of the surrounding mountains.
Through the teaching of Byeong-Yeol, you'll be able to make your own clay cup, plate, or ornament. There are also hands-on programs such as natural dyeing and seasonal produce harvesting (potatoes, sweet potatoes, persimmons and strawberries). The studio exhibits artwork such as Gyeoljeongyujagi, a type of pottery decorated with a mixture of glaze and gold powder. Other works of art include those painted with persimmon juice!

In summer, the Bisl Pottery Studio is especially popular among families as a vacation destination since there are accommodations and an outdoor swimming pool providing relief from the summer heat. There is also a large playground, where visitors can play sports and make campfires.
Tourist site
Contact and Information : • 1330 Travel Hotline: +82-2-1330
(Korean, English, Japanese, Chinese)
• For more info: +82-54-371-5588 (Korean)
Day off :
Experience guide : - Pottery Experience
Groups (Kindergarten only): Making pottery, pottery painting or pottery carving / 12,000 won per activity
Individuals: Adults 20,000 won / Children 15,000 won

- Natural Dye Experience
Groups (Kindergarten only): 12,000 won (Short-sleeved T-shirts)
Individuals: 15,000 won (Short-sleeved T-shirts)

* Subject to changes depending on dyeing materials, seasonal produce prices.
* Activity will not be available if there are less than 5 people who signed up.
-
Textbook-related activity

- Harvesting activity (potato, sweet potato, persimmon, etc.)
Groups of 15 people or more (Kindergartens only): 5,000 won-10,000 won
Parking facilities :
Information Not Available!