Bisl Pottery Studio (비슬도예원)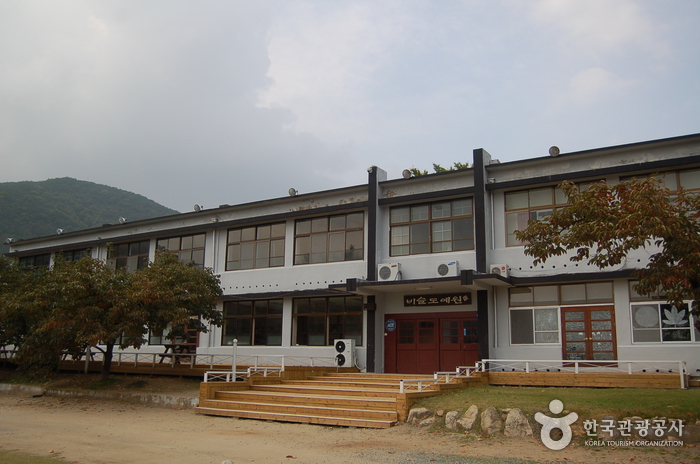 Zip Code : 38302
Phone number : +82-54-371-5588
Homepage :www.ebisl.net (Korean only)
Address : 787, Heolti-ro, Gakbuk-myeon, Cheongdo-gun, Gyeongsangbuk-do
Driving directions : [Train]
Take a train from Seoul Station to Cheongdu Station.

[Express/Intercity Bus]
Take a bus from Dong Seoul Bus Terminal to Cheongdu Intercity Bus Terminal.

[Taxi]
Approx. 30 min from Cheongdu Station and Cheongju Intercity Bus Terminal.
Summary
Located in Cheongdo-gun, Gyeongsangbuk-do, the Bisl Pottery Studio is run by potter Kim Byeong-Yeol. An old abandoned school was renovated into a serene studio where you can make your own pottery while taking in the beauty of the surrounding mountains.
Through the teaching of Byeong-Yeol, you'll be able to make your own cup, plate, or ornament. There are also hands-on programs such as natural dyeing and seasonal produce harvesting (potatoes, sweet potatoes, persimmons, strawberries).

The studio exhibits artwork such as Gyeoljeongyujagi, a type of pottery decorated with a mixture of glaze and gold powder. Other works of art include those painted with persimmon juice!

In summer, the Bisl Pottery Studio is especially popular among families as a vacation destination since there are accommodations and an outdoor swimming pool providing relief from the summer heat. There is also a large playground, where visitors can play sports and make campfires.
Tourist site
Contact and Information : • 1330 Travel Hotline: +82-2-1330
(Korean, English, Japanese, Chinese)
• For more info: +82-54-371-5588
Day off :
Experience guide : - Pottery Experience
Groups (Kindergarten only): Making pottery, pottery painting or pottery carving / 12,000 won per activity
Individuals: Adults 20,000 won / Children 15,000 won

- Natural Dye Experience (short-sleeved t-shirt)
Groups (Kindergarten only): 12,000 won
Individuals: 15,000 won

* Subject to changes depending on dyeing materials, seasonal produce prices.
* Activity will not be available if there are less than 5 people who signed up.
-
Textbook-related activity

- Harvesting activity (potato, sweet potato, persimmon, etc.)
Groups of 15 people or more (Kindergartens only): 5,000-10,000 won
Parking facilities :