Key Observatory (열쇠전망대)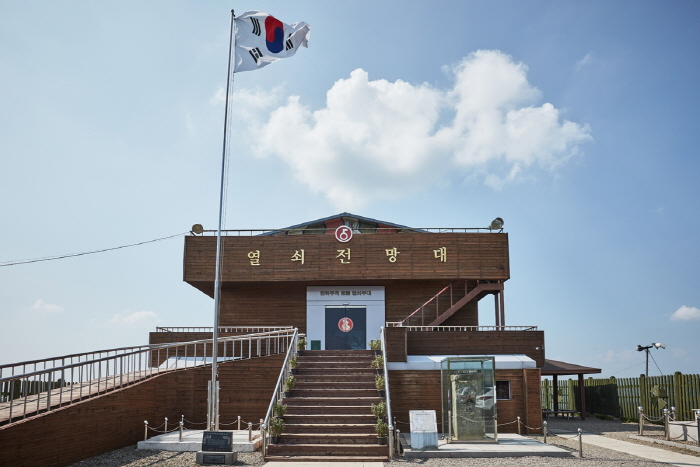 Zip Code : 11002
Phone number : +82-31-839-2061, 2147
Homepage :tour.yeoncheon.go.kr (Korean, English, Japanese, Chinese)
Address : 1375-1, Dongnae-ro, Yeoncheon-gun, Gyeonggi-do
Driving directions : [Train]
Take the train from Dongducheon Station (Seoul Subway Line 1) to Daegwang-ri Station.
- From Daegwang-ri Station, it takes 15 minutes by taxi.
Summary
Called to play the role of an important key for unification, Key Observatory was established on April 11, 1998 to commemorate the sorrow of homesickness and provide security education in the area of Dapgok-ri, Sinseo-myeon, Yeoncheon-gun. Military in the area can also keep watch over the north from this location. It is open to members of the public who complete an identification check. After the check, soldiers will open the barricade for admission. From the observatory, visitors can see the green verdure surrounding the north region with one's naked eye but taking photos is prohibited.
Tourist site
Contact and Information : • 1330 Travel Hotline: +82-2-1330
(Korean, English, Japanese, Chinese)
• For more info: +82-31-839-2061, 2147
Day off : Every Tuesday
Experience guide :
Parking facilities :
Admission Fees
Free of charge
Restrooms
Available
Reservation Info. for Natives
1. Individual visitor (under 25 people)
They must bring their ID card on the day of visit. (Passport and driver's license accepted)
* Admission prohibited without an ID card (Exception: children and teenagers can enter when accompanied by adults)

2. Group of 25 people or more
Visitors must send a fax 7 days before visiting after filling out an application form from the website.
* Category: www.iyc21.net → Attraction → Security Tourism Experience → Tourism Experience → Click the destination title → Download an application form at the bottom of the page