Jangsudae Pavilion (장수대)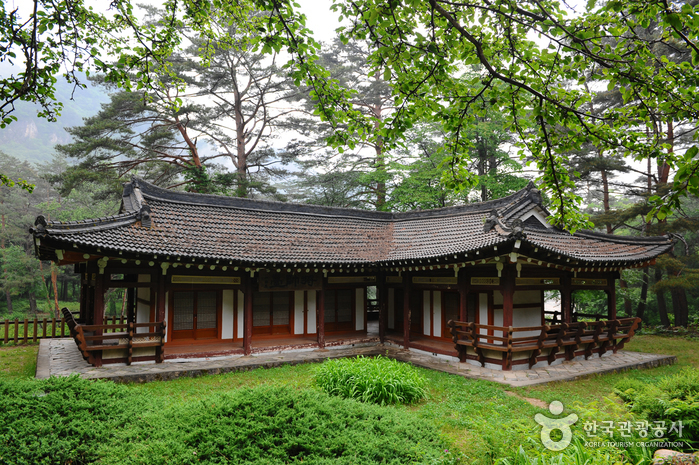 Zip Code : 24607
Phone number :
Homepage :seorak.knps.or.kr (Korean, English, Japanese, Chinese)
Address : 4193, Seorak-ro, Inje-gun, Gangwon-do
Driving directions : 1. From Inje Intercity Bus Terminal, take Yangyang bound intercity bus and get off at Jangsudae (40 min ride).
2. Taxi takes 20-25 min from Inje Intercity Bus Terminal, 15-20 min from Wontong Intercity Bus Terminal.
Summary
Jangsudae Pavilion was completed on October 1, 1959 to commemorate the great victory of the battle held at Seoraksan Mountain during the Korean War. It serves as a resting spot for visitors who hike up the park to visit attractions nearby such as the Daeseung Falls, Oknyeotang Spring, Gamatang Spring, Hangyesanseong Fortress, and Haneulbyeok Wall. The pavilion is built in a traditional Korean style and considered as an excellent hermitage in terms of both structure and size. The surrounding nature consisting of mountain cliffs and pine forest makes the building stand out even more.
Tourist site
Contact and Information : • 1330 Travel Hotline: +82-2-1330
(Korean, English, Japanese, Chinese)
• For more info: +82-33-463-3476
Day off :
Experience guide :
Parking facilities :