Jangsudae (장수대)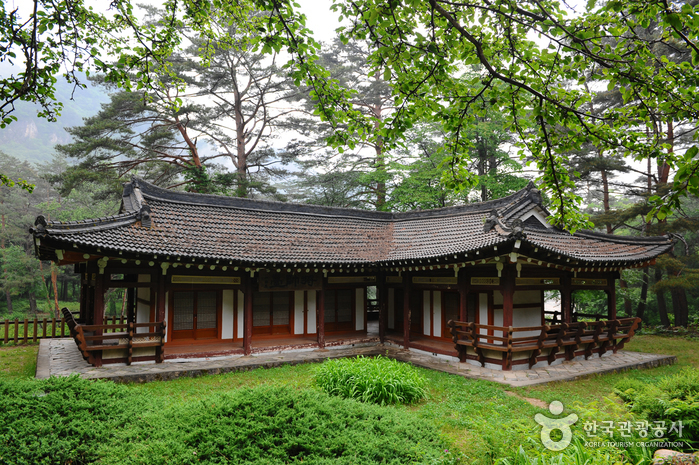 Zip Code : 24607
Phone number : +82-33-463-3476
Homepage : www.injetour.net (Korean, English)
Address : Hangye-ri, Buk-myeon, Inje-gun, Gangwon-do
Driving directions : 1. From Inje Intercity Bus Terminal, take Yangyang bound intercity bus and get off at Jangsudae (40 min ride).
2. Taxi takes 20-25 min from Inje Intercity Bus Terminal, 15-20 min from Wontong Intercity Bus Terminal.
Summary
Jangsudae (장수대) is a traditional Korean house surrounded by a pine tree forest. It was built where the waterfall stream meets the Hangyecheon Stream, and Jayangjeon was originally built here. General Oh Deuk-Jun proposed to establish this site to pray for the souls of the soldiers who died in the Korean War. The south Korean soldiers built this traditional villa and named it Jangsudae. Lee Eun-Sang (1903-1982) wrote poems of the sorrow that the war had brought while he was at this place. Across the villa is the Jangsudae ticket booth, and this is the starting point of the mountain hiking of Daeseung Falls and Daeseungryeong. Nearby Jangsudae is Daesueng Falls and Oknyeotang, which is named after the story that an angel was relaxing at the waterfall and was chased by a large centipede and had to run away to this bath. This site is a popular tourist site for the Gama-tang, Hangyesanseong Fortress, and Haneulbyeok where tourists come to relax. This villa has a capacity of 100 people, which is large for a villa in the mountains. The high peak you see over Hangyecheon Stream from Jangsudae is Mt. Garisan. It forms the mountaintop with Jugeokbong Peak and Three brother-bong peaks.
Tourist site
Contact and Information : - Korea Travel Phone +82-33-1330 (Korean, English, Japanese, Chinese)
- For more info +82-33-463-3476 (Korean)
Day off :
Experience guide :
Parking facilities :