E-World 83 Tower (이월드 83타워)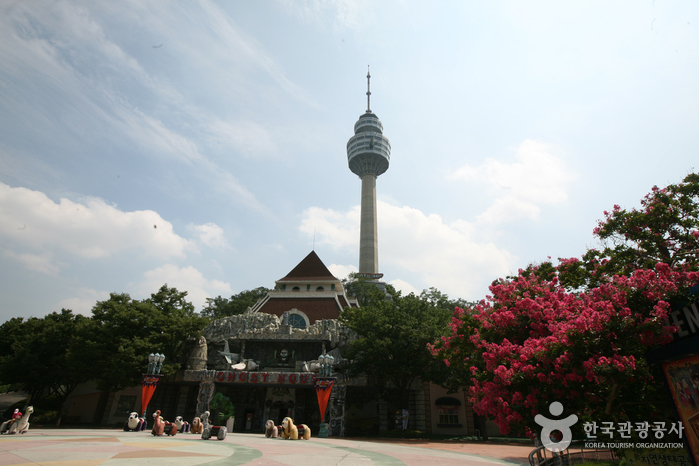 Zip Code : 42666
Phone number : +82-53-620-0001
Homepage :http://www.eworld.kr
(Korean only)
Address : 200, Duryugongwon-ro, Dalseo-gu, Daegu
Driving directions : [Subway]
Duryu Station (Daegu Subway Line 2), Exit 15.
- Walk along Duryupark road about 307m.
- Take a left turn onto Yaoeeumakdang-ro rood(야외음악당로).

Summary
83 Tower is a symbol of Daegu and offers an incredible view of the entire city. The tower also has a revolving restaurant and Sky Lounge, offering top cuisine and night views of the city.

Tourist site
Contact and Information : • 1330 Travel Hotline: +82-2-1330
(Korean, English, Japanese, Chinese)
• For more info: +82-53-620-0001
Day off :
Experience guide :
Parking facilities : Available
Admission Fees
[Day-Pass Ticket]
Unlimited Access to E-world / 83 Towers / Performances / Rides
Adults 33,000 won / Youth (ages 14-19) 29,000 won / Children (ages 3-13) 24,000 won

[Admission Ticket (after 17:00)]
Weekdays 16,000 won / Weekends 16,000 won

* Adults 33,000 won / Youth (ages 14-19) 29,000 won / Children (ages 3-13) & Seniors (ages 65 & over) 24,000 won
* Infants younger than 35 months may enter free of charge.
* A proof of identity should be presented for free entrance or discount.
* Admission fee for Seniors (ages 65 & over) is available at Youth fare up on presenting a proof of ID card or senior's card.

[83 Tower Observatory]
Youths & Adults 10,000 won / Children 5,000 won

* People with disabilities and men of national merits: 50% discount with one accompanied person * Seniors (ages 65 or more): 50% discount (a proof required)
* A-year membership of E-World: 5,000 won
* Free admission for people using 83 Grill by Ashley (receipt required)
Available Facilities
Restaurant, observatory, ice rink, etc.
Restrooms
Available