Bongpyeong 5-day Market (봉평5일장/봉평시장 (2, 7 일))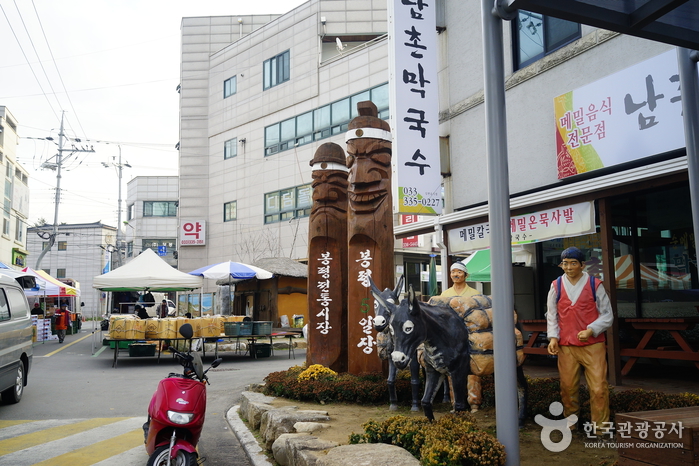 Zip Code : 25304
Phone number : +82-33-336-9987
Homepage :
Address : 14-1, Dongijangteo-gil, Bongpyeong-myeon, Pyeongchang-gun, Gangwon-do
Driving directions : [Bus]
From Dong Seoul Bus Terminal, take an intercity bus to Jangpyeong Bus Terminal.
From Jangpyeong Bus Terminal, cross the road to the opposite side from the terminal and take a village bus from the 'Jangpyeong.Mooee Arts Center' Bus Stop and get off at Changdong2-ri Bus Stop. Cross the pedestrian and walk straight for about 200m to arrive at destination.
Summary
Bongpyeong Market opens on days with '2' and '7' with the interval of five days. One can imagine as the protagonist in the famous novel by Lee Hyo-seok 'When the Buckwheat Blossoms' as he or she goes through the market. Recently, memil without fail, has been the top product in the market. From Memil Mak-guksu (buckwheat noodles), Memil-buchim (buckwheat pancake), Memil-jeonbyeong (buckwheat crepe), Memil-Jjinbbang (buckwheat steamed bun), Tojong Memil-Sundae, Memil Guksu-Jeongol (buckwheat noodles hotpot), Memil Namu Bibimbap and more, a variety of buckwheat-related foods can be found in this market.

Tourist site
Contact and Information :
Day off :
Experience guide :
Parking facilities :
Information Not Available!