Bupyeong (Kkangtong) Market (부평시장(깡통시장))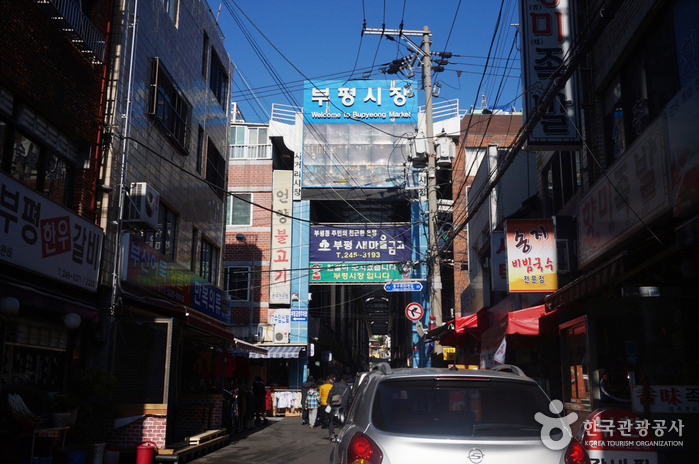 Zip Code : 48977
Phone number : +82-51-243-1128
Homepage :www.bupyeong-market.com (Korean, English, Japanese, Chinese)
Address : 48, Bupyeong 1-gil, Jung-gu, Busan
Driving directions : [Express bus]
1. From Seoul Express Bus Terminal/Dong Seoul Bus Terminal, take a bus bound for Busan Central Bus Terminal. Upon exiting from the terminal, board the subway at Nopo Station (Busan Subway Line 1). Get off at Jagalchi Station (Busan Subway Line 1), Exit 7. Walk straight then turn at your first left. Walk straight approx. 340m. Turn left and walk approx. 115m and you will find it on your right.

[Intercity bus]
1. From Seoul Nambu Terminal, take a bus bound for Busan Seobu Intercity Bus Terminal. Upon exiting the terminal, walk straight for about 288m to take a local bus from Busan Seobu Intercity Bus Terminal. Take local bus No. 15 and get off at Bosu 4-way Intersection Bus Stop. Walk straight approx. 200m. Turn right and walk approx. 200m.
2. From Dong Seoul Bus Terminal, take a bus bound for Haeundae Intercity Bus Terminal. Upon exiting from the terminal, board the subway at Haeundae Station (Busan Subway Line 2) and get off at Motgol Station (Busan Subway Line 1), Exit 4. Walk straight for about 3m to take bus No. 40 from Nam-gu Office Bus Stop. Get off at Bosu-dong Book Street Bus Stop. Cross the street and walk approx. 220m to reach the destination.

[Train]
From Seoul/Yeongdeungpo Station, take a train to Busan Station. Upon exiting the train station, walk straight for about 282m to take local bus No. 40 at Busan Station Bus Stop. Get off at Bosu-dong Book Street Bus Stop. Cross the street and walk approx. 220m to reach the destination.

[Local bus]
1. Bupyeong (Kkangtong) Market
-Regular bus: 8, 11 , 96 , 103 , 113 , 126
-Express bus: 1000
-Village bus: Jong-gu 1
2. Woori Bank
-Village bus: Jong-gu 1

Summary
Busan's Bupyeong Market is also known as Kkangtong (tin can) Market. It earned that funny name when it had a variety of imported canned goods from the United States for the US forces stationed in Korea during the Korean War. It was also known as "Dottegi (bustling plea) Market." All foreign products found in the country at that time were supplied from this market. Due to its vast property and many rare goods that were hard to find anywhere else during the time, it was also referred as "Gukje (International) Market." Nowadays, the market has reduced in size as many foreign products are freely imported, but the reputation and potential still remain. Some imported goods including liquor, clothes, ornaments, accessories, fashion items and electronic goods are still sold here.

A night market opens from 19:30-24:00 at the public parking lot and at Arcade 2 of the market . Along the 110m-long street market are 11 kiosks selling Korean food, 6 kiosks selling international food such as Japanese and Filipino foods, and 13 vendors selling clothes and accessories. The entrance of the market greets visitors with bright LED lights and fun performances. A magic show and a guitar performance take place twice a day by the entrance of the market and the at the four-way intersection inside the market.
Tourist site
Contact and Information :
Day off :
Experience guide :
Parking facilities :
Information Not Available!