Baemsagol Jirisan Restaurant (뱀사골 지리산식당)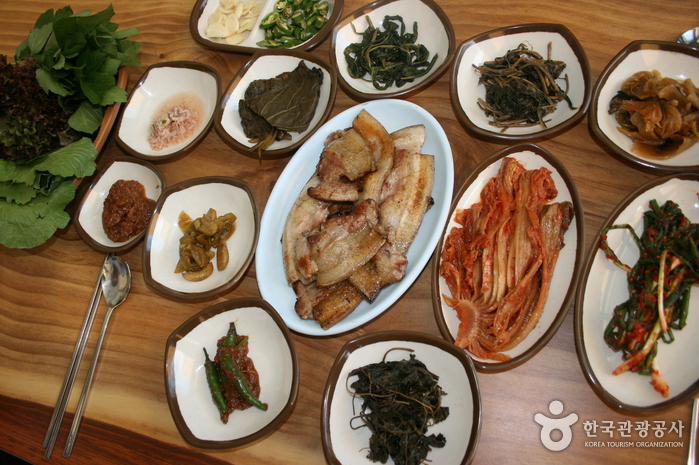 Zip Code : 55805
Phone number : +82-63-626-8800
Homepage :
Address : 271, Jirisan-ro, Sannae-myeon, Namwon-si, Jeollabuk-do
Driving directions : Take the bus towards Namwon from Central City Terminal (06:00 - 22:10, departs every 1 hour / 3hr 40min ride)
Summary

Located in Dalgung Village, Baemsa Valley, Jirisan Mountain, Jirisan Restaurant is famous for its black pork barbeque prepared with locally raised pigs. Black pork is barbequed and served with kimchi ripen over three years. Visitors can enjoy the chewy and flavorful black pork outdoors. Also, visitors can freely enjoy 17 different menus including Sanchaejungshik (full course meal with wild greens), chicken dishes made with locally raised chicken and Maeuntang (spicy soup) and purchase regional products such as Gorosoe mineral water, various kinds of wild greens, Reishi mushrooms and honey. Moreover, this restaurant was introduced on TV as a popular restaurant, so people from all over the country are visiting. In Dalgung Villge where the restaurant is located, there are a lot of accommodations and restaurants, and in the nearby Dalgung Valley, families, travelers or hikers can take a rest.


Tourist site
Contact and Information :
Day off :
Experience guide :
Parking facilities :
Information Not Available!
A PHP Error was encountered
Severity: Warning
Message: Illegal string offset 'originimgurl'
Filename: frontend/apidetails.php
Line Number: 204
h" alt="Baemsagol Jirisan Restaurant (뱀사골 지리산식당)">
A PHP Error was encountered
Severity: Warning
Message: Illegal string offset 'originimgurl'
Filename: frontend/apidetails.php
Line Number: 204
1" alt="Baemsagol Jirisan Restaurant (뱀사골 지리산식당)">
A PHP Error was encountered
Severity: Warning
Message: Illegal string offset 'originimgurl'
Filename: frontend/apidetails.php
Line Number: 204
h" alt="Baemsagol Jirisan Restaurant (뱀사골 지리산식당)">
Previous
Next